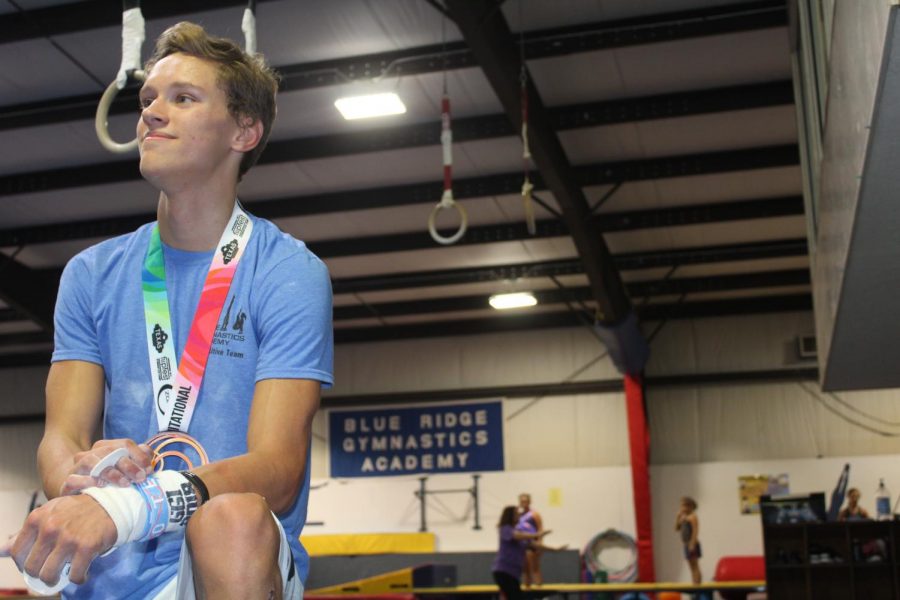 Brendan flips for gymnastics
September 6, 2018
Junior Brendan Lahti has been competing in gymnastics since he was a three-year-old at Blue Ridge Gymnastics Academy in Martinsville. Lahti has won many competitions with his team, which he considers a second family, throughout his years of gymnastics, and has placed third for regionals at Georgia in pommel horse.
"I just moved up to level 10 this year which is the highest I can go at my age," Lahti said.
Lahti competes mostly in North Carolina and Virginia every year with his competition team, but sometimes he qualifies to compete in other states like Florida, Georgia, South Carolina, and Tennessee.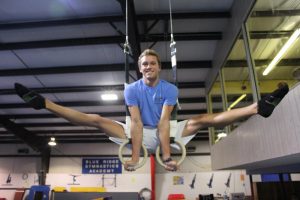 "[Gymnastics] is comparable to six sports since there are six different events having their own unique skills," Lahti said. Lahti is an all-around gymnast, which means he trains for all six events.
"[Parallel bars and rings] have come the easiest to me because I can picture how to do it and figure it out," Lahti said.
Lahti describes he is most proud of his press to handstand.
"There are different levels of pressing: A presses, B presses, C presses and so on. I am one of the few in North Carolina that can consistently do a C press." Lahti said.
The hardest trick Lahti has been able to accomplish is a full twisting layout, a backflip stretched out with a full spin, on floor.
Lahti's highest score was a 12.1 on floor, which he says is, "ironically, my second worse event." He received this score at regionals in Georgia.
Lahti is working toward doing a full twisting layout on parallel bars, and once he accomplishes this move he expects to learn more new, exciting moves.
"It is always satisfying to know you just learned another skill," Lahti said.
"I have improved the most on pommel horse because I got cleaner, added skills, and I can hit my routine better," Lahti said.
Lahti's inspiration for gymnastics is Kohei Uchimura, a Japanese gymnast.
"Uchimura sets a whole new standard being an all-around gymnast because he has not placed anything less than first place, except for once, in the past ten years," Lahti said.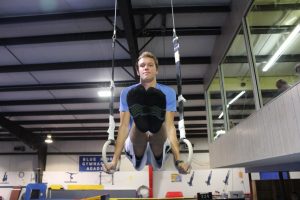 Lahti is excited for the new season coming up.
"This year I am hoping to qualify for nationals, so I can compete against some amazing competitors," Lahti said.
Lahti is excited for his first competition of the season in November in Raleigh, North Carolina.