Learn all about STEM academy
The STEM academy offers two tracks  for freshmen and sophomores to focus in either Health and Medical Sciences or in Advanced Manufacturing. Additionally, very freshman is required to take Environmental Science and every sophomore is required to take Biology. 
The intro to Health and Medical Sciences helps introduce healthcare and develop basic health and medical science skills. It also helps understand U.S healthcare system and basic terminology. Students on this path will take Intro to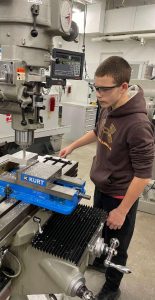 Health and Medical Sciences as freshmen and Medial Terminology as sophomores.  
Manufacturing Systems provides an orientation to careers in various fields of manufacturing. It also emphasizes manufacturing systems, safety, materials, production, business concepts, and the manufacturing process.Advanced Manufacturing Systems II helps develop an in-depth understanding of automation and its applications in manufacturing. It emphasizes flexible manufacturing processes and computer integrated manufacturing.
A lot of students at THS attend the STEM academy. To be able to get into the STEM academy, students must have a good GPA, good attendance, and a teacher recommendation. Also, they cannot get into any trouble or get suspended, or they will get kicked out. 
One of the freshmen students that attend the STEM academy is Kelsie Scott. "The reason I wanted to go to STEM is because I used to go on field trips there in elementary school, and [I] thought it would be fun," Scott said.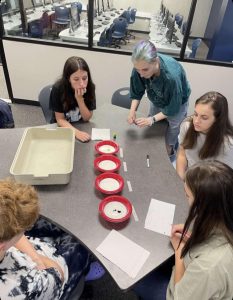 She enjoys going to STEM because it's a lot more hands-on learning. She most likely does not want to pursue a job in the STEM field, but she is interested in STEM subjects. 
Mary Ferguson is a freshman attending STEM academy. "I chose to go to STEM because my teacher told me that it was really good, and I got information on what it was like," said Ferguson. 
At STEM she is in Health and Medical Science and Environmental Science. She would like to pursue a job in STEM as a surgical assistant. 
"Yes, I like going to STEM. It's a great experience for students who like to step outside of their comfort zone and try new ways to learn," said Ferguson. She would also like to attend a nursing program at PCTC in the future. 
Sean Fitzgerald is a sophomore attending the STEM academy. " I kind of like going to STEM better than regular classes. The classes are definitely challenging, but I would for sure recommend it," said Fitzgerald. 
He wants to pursue a career in health and medical which is why he took Health and Medical, Science, and Biology. He wants to attend PCTC for their nursing program. He thinks STEM is a great program, and it really enlightened him about nursing. 
Another sophomore attending the STEM academy is Emma Miller. She wanted to attend the STEM academy because she wanted to get involved in the healthcare field. "I would recommend STEM, but it is hard to keep up with," said Miller. 
She likes STEM better than regular classes because it is more interactive and there is more talking and group work. She wants a job in STEM as a nurse which is why she wants to attend PCTC for their health and medical program.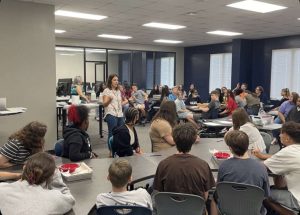 Most of the students that attended the STEM academy really enjoyed it and would definitely recommend it because it's easier to learn all the subjects and the programs are more hands-on.