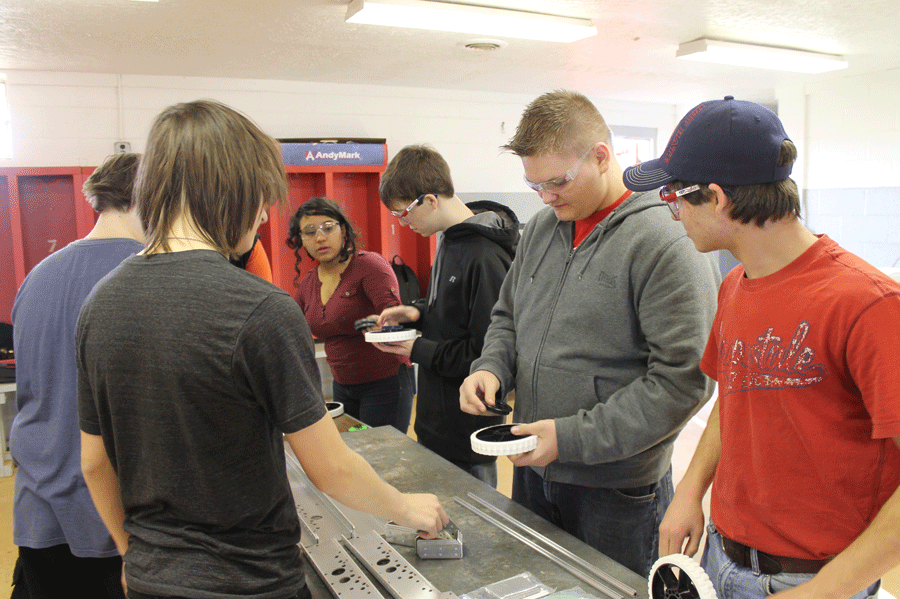 Tiffany Bowker
After a four year hiatus, the Robotics team has begun again here at Tunstall. "Students were very, very interested in it. There was a need for it," said science teacher Edward Sherlock. The team consists of twenty-two students and is co-sponsored by Mr. Sherlock and Ms. Jessica Jones.
"At meeting we usually brainstorm ideas for what we want our robot to do and then we go out to the field house, where we work on the robot, and work on different things we need for it and for the competitions," said sophomore Emma Hale. Students will spend the next six weeks designing and building the robot to fit certain criteria, such as conquering obstacles, and fitting under a suspended bar.
Competitions will take place in March in Blacksburg and Portsmouth, Virginia. As safety captain, freshman Nathan Evans said, "My expectations for my team at competitions is to be successful and safe so no one will get hurt while working on the bot."
The team needs a total of $17,000 to sustain itself for the year, most of which is funded through different fundraisers and grants through the state.
"We would love to qualify for Regionals," Mr. Sherlock said about his goals for the year. Regionals is achievable through a point system and through awards at competitions. "Seeing [the robot] do what it is made to do– that'll be the excitement."