About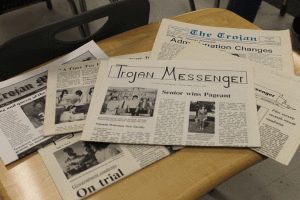 The Trojan Messenger is a news publication that serves as a forum for students' viewpoints and is protected by and adheres to the First Amendment. The Trojan Messenger has been continuously published since 1978 for Tunstall High School.  February 2014 marks the beginning of the paper's online presence with www.trojanmessenger.com. The newspaper staff consists of students from the Journalism I-II class.
In 2012 the Trojan Messenger was recognized by the Virginia High School League with a First Place distinction in the AA division for the print paper. For three consecutive years, 2015-2017, the Trojan Messenger was recognized with an Excellence in Writing Badge.
Editorials: The unsigned editorials represent the opinions of the Trojan Messenger staff only. Any viewpoints expressed in signed editorials reflect the opinions of the individual writer. These editorials do not necessarily depict the convictions of the sponsor or the administration.
Letters: The Trojan Messenger encourages and welcomes signed letters to the editor but reserves the right to edit for structure and grammar. In order to promoted journalistic standards, the staff will reject material that is libelous or obscene. Recommended length is between 200-350 words. Letters should be delivered to room F109.
Advertising: For information concerning advertising in the Trojan Messenger contact Mrs. Adrian Nester at 434-724-7111. The staff reserves the right to refuse ads.
Contact us: Tunstall High School 100 Trojan Circle Dry Fork, VA 24549. Phone: 434-724-7111. Email: [email protected].