Checking out the new location of the Mount Hermon library
Hang on for a minute...we're trying to find some more stories you might like.
The shopping center in the Mount Hermon community, located on Franklin Turnpike, has always been popular. Whether people are satisfying their hunger needs at Village's or the hibachi restaurant, getting their nails done, shopping at Goodwill, or simply buying groceries at Food Lion, there is a lot going on. Now, there is even more traffic in the shopping center due to the latest addition: the Mount Hermon branch public library.
A division of the Pittsylvania County Public Library, the Mount Hermon library is located at 4058 Franklin Turnpike, which was the former Rivermont School. The 4,800 square feet building was renovated before the library moved in. Previously, the library was located in the Mount Hermon courtyard, also on Franklin Turnpike, but the space was too limited. The new library is much larger and features new areas, such as a young adult (YA) lounge.
The YA lounge is very colorful and includes trendy decorations, such as cacti. There is also a table located in the middle of the area where students up to 18-years-old can hang out, do homework, and read. The table has built-in electrical outlets, which is perfect for charging laptops or cell phones. The library also offers free wireless Internet.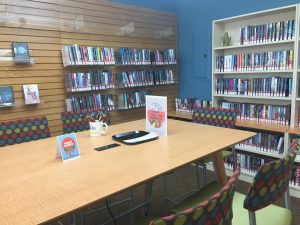 Additionally, there is a redesigned children's section that is very appealing to young students and offers popular books, such as Laugh Out Loud Jokes for Kids.
In the front of the library, there is a large audiobook section. In this area, there are also advertisements for Hoopla, which is a streaming platform available for those with a library card. Hoopla can be accessed online and as an app on the ITunes and Google Play store. If the library does not have a book, album, or movie, users can stream it through Hoopla. Users are allowed to check out seven items per month.
There is also a media section that features ten computers able to be used by library card holders. Users are allowed 30 minute sessions on the computers. If the library is not crowded, users may have more than one session. There is a sign-up station if all computers are full when one gets there. If things need to be printed, the first five black and white copies are free. After that, each black and white copy is 10 cents and color copies are 25 cents each.
Although the Mount Hermon library is at a new location, some things have remained the same. The library will still be offering several events throughout the year, such as knitting clubs and movie showings. Library card holders are also still allowed to check out an unlimited amount of books/audiobooks for 14 days, a limit of 5 movies for 2 days, and an unlimited amount of magazines for 14 days.
To obtain a library card, a person must be a resident of Pittsylvania County or other nearby areas. One must also bring some form of photo identification, like a driver's license, and a proof of one's current address. A library card is free, with the expectation card holders will abide by the policies.
The library is opened Monday- Thursday from 10am to 8pm. On Fridays, the library also opens at 10am, but closes at 6pm. Saturday hours are from 10am to 2pm, and the library is closed on Sundays.
To support the Mount Hermon library's new location, donations can be made online.
For more information, visit http://pcplib.org/ or call the Mount Hermon branch at (434) 835-0326.