Recapping a night on the red carpet: prom '18
On Saturday, April 21, over 300 students gathered at The Institute of Advanced Learning and Research for prom, which was a location change from last year at the Danville Golf Club. The theme was "Red Carpet" and as expected, the students entered the doors on a red carpet. There was also a red carpet inside at the base of the stairs.
The night began with the senior walk. Those participating walked across the balcony in the main lobby of the Institute then down the stairs.
"I felt like Price Edwards at senior walk," said senior Jackson Clark.
After the event was over, guests made their way into the ballroom where prom royalty was announced. For prince and princess, juniors Corey Childress and Hannah Alderman won.
"I was a little shocked, but I thought I was going to win," said Childress.
"I thought I would win," said Alderman.
Seniors AJ Vincent and Sianna Adams were crowned as king and queen.
"I was very surprised. I didn't think I would get it again," said Adams, who was prom princess the previous year.
"I felt surprised and happy rolled into one," said senior AJ Vincent.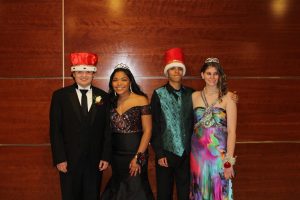 To the right of the ballroom, there was a room of drinks and food, including water, lemonade, chicken tenders, brownies, and cookies.
"I enjoyed the food that they supplied. I had like three plates of food," said junior C.J. Gauldin.
To the left of the ballroom, there was a room with a photo booth for students who wanted to take pictures with their friends or dates. There were also photo props provided, like sunglasses.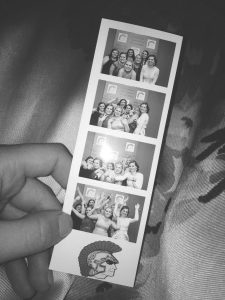 Overall, it was a successful night full of eating, dancing, laughing, and taking lots of pictures.
"My most memorable moment was definitely slow dancing with my girlfriend. It's a moment I will never forget," said senior Tanner Bray.
"I loved walking in and seeing everyone look at me," said junior Weetonia Dickerson.
If you would like your prom picture included in the gallery, please tag the Trojan Messenger on our social media accounts or email pictures to [email protected]