Skip the fries, come to Hibachi Guys
September 20, 2018
Almost everyone has had a craving for delicious, quick Japanese food. Where better to find it than the Hibachi Guys food truck?
It all started out of Forest, Va., with founder Joseph Flores. They travel all over Central Virginia, anywhere from Appomattox to Danville and cater for weddings and events. They take either cash or credit card to make all transactions easy for the customer.
The Hibachi chicken and shrimp is their most popular item that is priced at $10.95. Every meal comes with delicious fried rice and vegetables.
They also have side items on the menu if you would like more vegetables, meat (chicken, shrimp and steak) or rice. The prices range from $2.95 to $14.95 and are very reasonable for the quality of food served.
What makes this Japanese food truck so different from the others is the wrap they serve. They have a Hibachi meat of your choice all bundled up into an easy-to-carry wrap with an aroma that makes your mouth water.
"The food tastes like you just sat down in an actual Japanese restaurant and waited for 20 minutes to get it," an anonymous customer said.
The portions are large, but if the customers want about half of the regular portion size, there is a kid's menu just waiting for them to check out. The kid's portion is comparable to the size of a small bowl at the Danville Mall's China Shuttle.
Hibachi Guys can usually be found twice a month at Family Dollar in Downtown Chatham. This location is convenient for business men/women coming from the Pittsylvania County Parks and Recreation office, County Administration building, County Courthouse and other administration offices.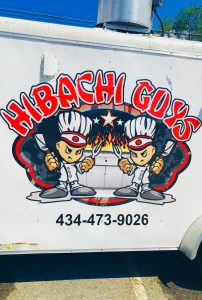 They have also been seen in Danville at Danville Urgent Care, Sam's Club, Family Dollar, Ballad Brewing and other locations.
They are usually set up from 11 a.m.- 2 p.m. for lunch or 4-7 p.m for dinner. The times vary due to how much food they are taking and where they will be set up.
It's hard to know what to expect out of the staff at a food truck. To my pleasure, the staff were very amiable and welcoming to the customers. It is very easy to talk to and order food from the workers because of their positive attitudes.
"It's pretty fun [working here]," employee Jackson said.
I would definitely recommend Hibachi Guys to everyone who likes Japanese food. The food and service are great and will please all customers.
The easiest way to find the next place they will be is on their Facebook page: @HibachiGuys. You can call them at 434-473-9026 or email them at [email protected] for more information. 
This is their schedule for the upcoming week:
Thursday, Sept. 20: Sam's Club 25th Anniversary 11a.m.-2p.m. and 3:30-6:30p.m.
Saturday, Sept. 22: Danville Comicon 10a.m.-10p.m.
For other locations, check their Facebook page.