Flashback Cinema: Old-school movies return to the big screen
Hang on for a minute...we're trying to find some more stories you might like.
To many movie fans, there is no better feeling than seeing their favorite movies from past decades on the silver screen. This was the inspiration for longtime film lover and executive John Hersker to create Flashback Cinema, a program designed to introduce old-school films to younger audiences.
The program shows six films at a time, all of which are advertised both on poster, and before the start of movies at theaters that show the upcoming films. Each movie is shown at 2 p.m. and 7 p.m. on Sundays and 4 p.m. and 7 p.m. on Wednesdays. The program itself is primarily found in theaters in states such as California, Texas, Georgia, North Carolina and Florida. However, because the movie theater in Danville is owned by Georgia Theater Company, which owns Flashback Cinemas, movies are also shown there as well.
The decision to incorporate the Flashback Cinema was made two years ago, and was a company decision according to the manager of the theater, Cami Whitlow. She also stated that, depending on what movie is showing, the program can generate a decent amount of revenue for the theater. When asked what movie the manager would like to personally see come to the theater, she chose The Wizard of Oz. Several THS students have also been to Flashback, including senior Jenna Bowling, who said she saw the film Dirty Dancing through the program a few months back. She also noted that she would like to see Breakfast at Tiffany's shown at the theater.
 The movies that are currently part of the Flashback Cinema line-up are as follows: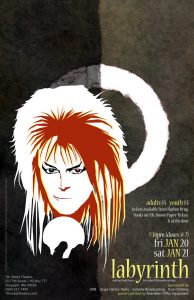 Labyrinth (Sept. 23 and 26) : First released in 1986, Labyrinth is a musical fantasy helmed by the legendary creator of the Muppets, Jim Henson, and written by Monty Python member Terry Jones. The film centers around Sarah (Jennifer Connelly), who accidentally wished her infant brother Toby away into the hands of Jareth, the Goblin King (David Bowie). Now she must traverse through a wondrous maze filled with goblins, trolls, and other sorts of creatures in order to save her brother. The film has garnered a cult following over the past few decades. It features incredibly detailed puppet work from Henson, several musical numbers, and special effects that were very advanced for its era.
(Credit to Wikipedia for plot summary.)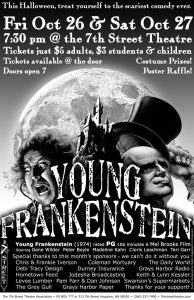 Young Frankenstein (Sept. 30 and Oct. 3): Released in 1974, Young Frankenstein, directed by comedic director Mel Brooks, is an affectionate parody of the classic Frankenstein story. In the film, Dr. Frederick Frankenstein (Gene Wilder) learns he has inherited his scientist grandfather's estate. There, along with his assistant Igor (Marty Feldman) he proceeds to carry on his grandfather's experiments, and eventually creates a horrifying monster (Peter Boyle). The film stays true to many aspects of the original story, such as being in black-and-white, carrying over several set pieces, and re-creating several classic scenes in a new comedic way. Mel Brooks and Gene Wilder both wrote the screenplay, and received an Academy Award nomination for their work.
(Credit to Wikipedia for plot summary)
Halloween (Oct. 7 and 10): First released in 1978, directed by John Carpenter, Halloween tells the haunting tale of Michael Myers, who murders his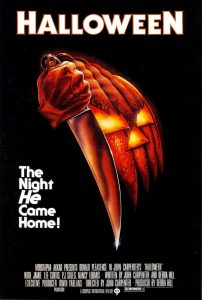 older sister as a young boy, and is subsequently put into a mental institution. Fifteen years later, he escapes the institution and returns to his home to continue his murderous rampage, with only determined psychiatrist Sam Loomis (Donald Pleasence) on his trail. The film is one of the most profitable independent productions of all time, and launched the careers of both director John Carpenter (who also wrote the screenplay and musical score) and Jamie Lee Curtis (who plays the babysitter Laurie Strode).
(Credit to wikipedia for plot summary)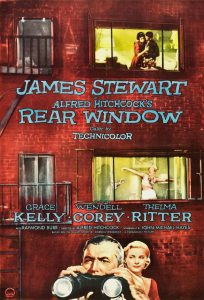 Rear Window (Oct. 14 and 17): Released in 1954 from director Alfred Hitchcock, the movie focuses on paralyzed newspaper photographer L.B. "Jeff" Jefferies (James Stewart), who has taken up people watching from his apartment window to help him recuperate from his broken leg. When he sees what he believes to be one of his neighbors murdering their wife, it's up to him, his nurse and his girlfriend Lisa Fremont (Grace Kelly) to solve the mystery.
(Credit to Wikipedia for plot summary)
Beetlejuice (Oct. 21 and 24): Released in 1988 from director Tim Burton, the movie stars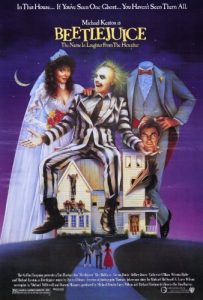 Michael Keaton as Betelgeuse (pronounced Beetlejuice), a freelance "bio-exorcist" ghost who has been hired by the now deceased Maitlands to remove the Deetz family from their home, after they fail at scaring away the Deetz themselves. However, things take a different turn of events when Betelgeuse reveals his own personal agenda involving marrying the Deetz' daughter, Lydia. The movie won Best Makeup and Best Horror Film of 1988 and was placed on the American Film Institute's "100 Years…100 Laughs" list in 2000. (Image Credits to Wikipedia.com)
The Shining (Oct. 28 and Oct. 31): Released in 1980, the movie is based off of Stephen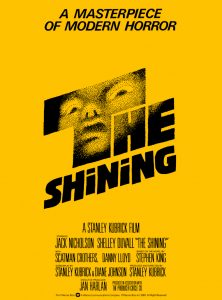 King's classic novel written in 1977. The movie follows Jack Torrance (Jack Nicholson) who is tasked with taking care of the Overlook Hotel during the winter in Colorado. He, his wife Wendy (Shelley Duvall) and his son Danny (Danny Lloyd) all settle in, only to slowly discover the hotel's dark secrets, causing Danny to become more disillusioned with psychic premonitions and Jack to slowly become a homicidal maniac. Though the film was met with mediocre reviews upon release, it has slowly gained a cult following in later decades, and is now regarded as one of the greatest horror films of all time.
For the next six weeks after The Shining, six more films will be put into the line-up. With the December just around the corner after these next few films, it's safe to say that Flashback's next set of movies will be holiday themed. With the vast collection of classic movies that the last few decades have produced, and with how well this program is doing, Flashback Cinema seems as if it will continue to see immense success in the future.