Students attend Career Choice Expo
October 5, 2018
On Oct.4, sophomores attended the Career Choice Expo.
The volunteers at the entrance handed each student a dark green drawstring bag with the major sponsors listed on the front. Some of these sponsors include Goodyear, Averett University, and Med Express.
The Career Expo gives students the opportunity to learn what jobs southern Virginia has to offer.
"We want you to go out and explore the world, but after you do that, come back home," said the greeter.
Most participating organizations have been there for four to five years, but this is the first year for some.
Sophomores went to four zones and had 15 minutes to explore and absorb information from the employers in each zone.
Most stations had hands-on activities for the students to indulge in. There was a station that had CPR dummies that we practiced on with instruction from the volunteers.  The Goodyear station consisted of a spring catapult that launched a cornhole bag into a cornhole board. Students who successfully landed so many bags got a prize of musical headphones.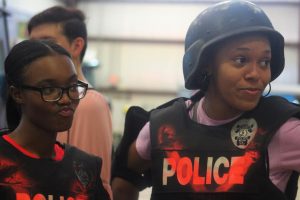 Students who may not want a desk job may have been interested in the Danville Fire Department's booth. There were two foresters at this booth sharing about how to prevent fires and be safe.
"People are usually the cause of forest fires," said one of the foresters.
The Cobblestone Milk Cooperative & Southland Mobile Dairy Classroom had a station to the left of Zone 2's entrance. A young woman was showing the sophomores how to milk a cow with a machine. This is in no way harmful to the cow, but actually like a massage.
"The milk is about 100 degrees when it comes out," said the young woman.  
The dreamers might like the City of Danville- Economic Development & The Launch Place's table. They set up a table with Mega Blocks that had plan, funds, location, or launch written on them. The 10th graders had to think through the process of building a business by connecting the blocks in the correct order.
For those interested in choosing a college, Patrick Henry Community College had a display of a 3D printer that can print in plastic or metal. They also had information about their college and what they have to offer.
Averett University also had a station set up showing the average weekly sugar consumption.
For those looking to make an impact on humanity could come to the Dan River Nonprofit Network. Students could spin the wheel at their booth to see if they won a lei. If they did not win, Evelyn Riley would share about the jobs in the career cluster of the sophomore's choice.
"Baby Shark" was booming from Sovah Health's station as the employees were showing the students how to do CPR to the beat.
Sophomores ended the trip to Olde Dominion Agricultural Complex with a survey. If the students completed this survey, they would be entered into a drawing for a $50 Amazon gift card.