Back at it again with Spirit Halloween
October 18, 2018
Spirit Halloween is a store that only stays from around Aug. to early Nov. Taking up a vacant space in the Riverside Shopping Center, this storefront draws in customers from all around Danville to get the best, most frightening costumes possible.
They have a very wide range of prices, from a couple of dollars all the way up into the hundreds. Spirit Halloween has 1,200 storefronts and is owned by Spencer's.
Right as someone walks into this chain store, they will notice the unnerving display of Halloween creatures that the associates set up every year. This year, it is like walking through a corn maze with an overhanging sign at the entrance saying "Spirit Acre Farms."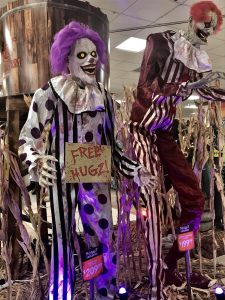 To the right is Michael Myers from Halloween 1978 with the bloodcurdling music that we all love and hate.  It almost looks like he is doing the shoot while he is moving his arm back and forth supposedly stabbing his victim. The mask from Halloween II costs $59.99.
There are also scraggly, undead clowns that have blood stains all over their clothes. By stepping on the "Step Here" button, the clown that has "Free Hugz" written on him will reach out and try to grab his victim.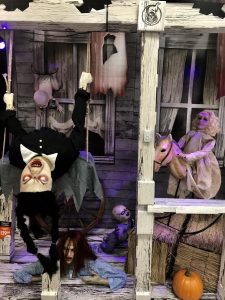 In the back of the store, there are more of these spooky displays. One of which is a "house" that people go into with a girl who screams at them at the exit. The outside of this house is very eerie with demon babies and children surrounding the entrance.
Getting into the costume aspect of the store, they have a very wide array of outfits to choose from. Starting with the baby/children's section, these costumes are really adorable with mild, to possibly high, pricing. For infants, there is a little Dalmatian Doggie costume that is cute for 12-18 month olds that costs $24.99.
PJ Masks have taken over the preschooler world, so it makes sense to have a costume inspired by it. This toddler Owlette costume goes for $34.99.
For little girls, there are costumes like Alice in Wonderland ($29.99) and Rainbow Dash from My Little Pony the Movie ($39.99) that really make the 7-year-old shine.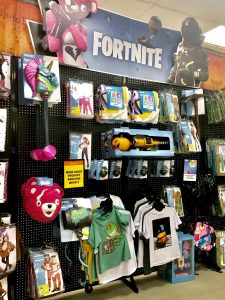 No one can forget about Fortnite. The children's section has a whole wall space for all of their Fortnite needs, unfortunately for the teenagers, these sizes do not come in adults. From pickaxes to cuddle team leader masks, this space has most aspects of Fortnite to offer to a child's Fortnite costume.  
Moving along to the adults costumes, there is an even wider horizon to explore among these outfits than the children's section. For those who like risqué costumes, Spirit has them, enough said about that subject.
There are couples costumes, such as the King & Queen of Hearts for $39.99. There is also a section called Create Your Costume where one can find different colored tutus, shorts, shirts, and much more.  
Fairy tale character costumes can be found for women here, such as Charming Beauty (basically from Beauty and the Beast) for $49.99. Steampunk Girl, which looks like a lady from the Wild West, prices at $59.99. Even a Mario costume for women can be found at Spirit costing $59.99.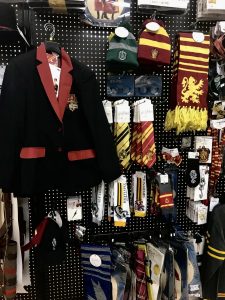 A Harry Potter collection has arrived at Spirit this year for all those Potterheads. Slytherin, Hufflepuff, Gryffindor, and Ravenclaw are all costumes that are found here. A Gryffindor jacket costs $69.99. That's what people get if they want to pay for the logo.
Some of the men's costumes include a Caesar ($29.99) and a 20's Gangster Suit ($49.99). The most expensive costume found at Spirit was a unisex Deluxe Gorilla suit for an astounding $99.99! That's a little pricey for a gorilla, but whatever floats their boat.
There are also Halloween buckets from $3.99-$12.99. These include the classic pumpkin, Paw Patrol's Marshall, Disney's Elena of Avalor, Minions, Elmo, and many more.
At every purchase, the sales associate checking people out will ask if they want to donate to Spirit of Children, which goes to the Child Life Department at the hospital. They are also selling rubber bracelets for the same cause.
Even though this store is very pricey for Danville, it has the best costumes available in the area. It has all costume needs readily available, if one is willing to pay the price. Spirit also has exceptional quality costumes, so it is not a waste of money to come here.
These are their hours:
Monday – Thursday from 10a.m. – 9p.m.
Friday from 10a.m. – 10p.m.
Saturday from 9a.m. – 10p.m.
Sunday from 11a.m. –  8p.m.