Announcing Homecoming King and Queen
Hang on for a minute...we're trying to find some more stories you might like.
On Oct. 15 THS held their annual homecoming game at 6 p.m. During halftime, four students represented the freshman, sophomore, and junior class while eight students represented the 2019 senior class.
Representing the freshman class were: Elena Booth, Kennedy Thacker, Chase Snead, and Mason McGregor. Sophomores were: Brooklyn Owen, Kaylee Scarce, Nathan Merricks, Mickey Winn. Juniors were: Madi Belle Barker, Buck Long, Jalan Troy, and Alexandra Wood.
Walking for the seniors were Brooke Craddock and Eli Ashworth, Nia Green and Clay Hardy, Lauren Van Allen and Jeremy Carter, and Brooke Oakes and Eli Akl. 
At the conclusion of the homecoming ceremony Jeremy Carter and Lauren Van Allen were named homecoming king and queen.
The two were full of gratitude while also being very shocked as they gained this title. "I was shocked because I felt like all of the girls deserved it just as much as I did, but I was excited," said Van Allen.
Carter was also very shocked when his name was called for the title of king. "I lost the words when my name was called," said Carter.
Not only did Carter and Van Allen enjoy the company of each other while walking, they also enjoyed holding these titles together. "I thought it was cool how we both walked together and won," said Carter.
Homecoming practice was held in the gym, so the two felt anxious as to which direction they were supposed to walk. Van Allen was surprised to find out that Carter was more nervous than her. "I told him he was suppose to be the one to hold me up if I fell, rather than me holding him up," said Van Allen.
Both King and Queen had support from their families. Van Allen had her parents, two of her brothers, grandparents, and her boyfriend to come see her walk at senior homecoming.
On the other hand, someone special came to support Jeremy. His mother, who has been diagnosed with cancer, was able to attend his senior homecoming. "I was really happy that Jeremy's mom could make it after being diagnosed with cancer," said Van Allen.
Due to a busy schedule Van Allen only had two hours to prepare for the ceremony. "I had volleyball from noon until 2 p.m. and a hair appointment at 3 p.m but I was done by 5 p.m," said Van Allen.
The two dressed according to their personalities. Lauren borrowed her dress from one of her close friends because she felt as if it suited her well. Jeremy also stood out due to his unique attire. "I wore a cowboy hat and boots because it is who I am," said Carter.
Concluding this memorable night, the two celebrated with their families; Van Allen ate at Outback Steakhouse and Carter ate at San Marcos.
Homecoming night is memorable for all students at THS, but especially these two who represented their senior class.

About the Writers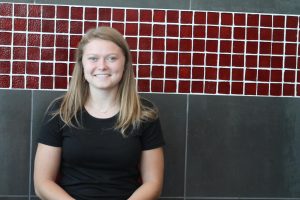 Sarah Lovern, Reporter
Sarah Lovern is a senior at Tunstall High school. This is her first year on the Trojan Messenger staff. Sarah is involved in several clubs including Beta,...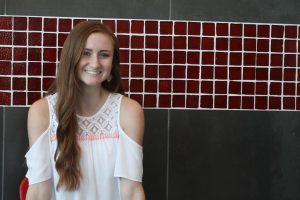 Faith Snead, Reporter
Faith Snead is a senior and this is her first year on the Trojan Messenger staff. She is involved in the Interact, Beta, SCA, and FCA clubs. She is also...