Eagles defeat the Trojans in five sets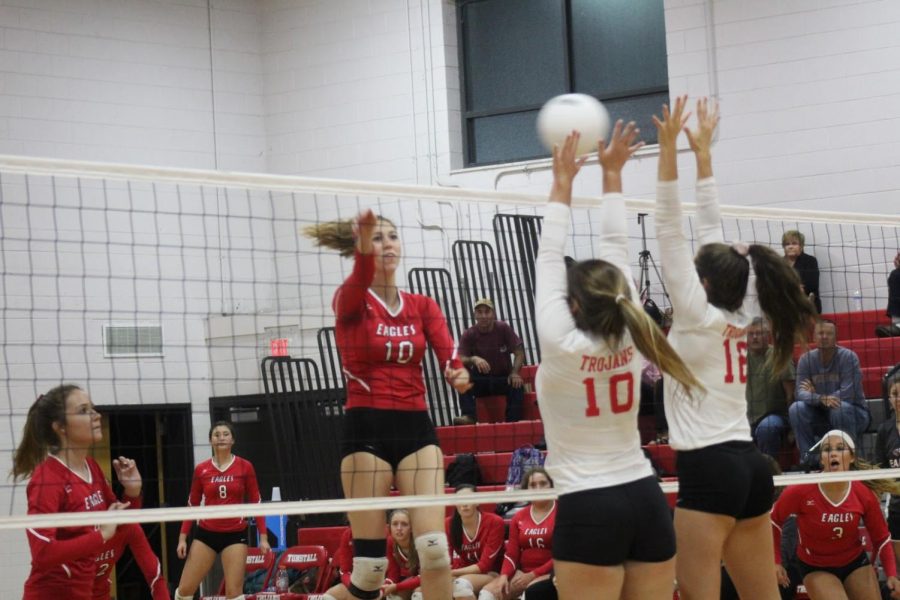 The Lady Trojans fought hard, but ultimately lost against the Franklin County Eagles with a score of 2-3. The Trojans fell to 13-2 overall and 9-2 in the district.
Leading the Trojans against the Eagles were Cathryn Estes with 12 kills, Cassidy Scarce with 11 kills, Brooklyn Owens with 6 blocks, Kinsley Stevens with 38 assists and 9 digs, and Saige Johnson with 14 digs.
The Lady Trojans started off a little shaky in the first set finishing with a score of 20-25.
Moving into the second set, Cathryn Estes made a kill to the back of the court and scored early. They came back and won this set with 25-19 being the score.
In the third set, Kaylee Scarce made a kill to start off the Trojans. They fought hard, but the set ended 22-25 with the Eagles in the lead.
Brooklyn Owens and Cathryn Estes collaborated to block and score in the fourth set. This set ended well for the Lady Trojans at 25-21.
The Trojans were not able to maintain the momentum needed for the win and lost the final set finishing with a score of 7-15.
The Trojans were disappointed in the loss, but are looking forward to their next game tonight. "I feel like we should've communicated better and made more serves," said sophomore Brooklyn Owens. "I hope tonight we go out there and catch a dub and work hard as a team to beat Bassett."
The junior varsity team lost two close sets against Franklin County with both scores finishing at 25-27.
The Trojans travel to Bassett High School on Wednesday, Oct. 17 for a make-up game. The JV match begins at 5:30.
About the Contributors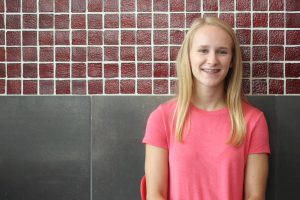 Kendall Moore, Reporter
Kendall Moore is a sophomore, and this is her first year on the Trojan Messenger staff. She loves God and watching basically any show that has anything...
Maya Payne, Reporter
Maya Payne is a sophomore experiencing her first year working for the Trojan Messenger. Out of school she indulges in reading fictional books, drawing,...