Top 5 Cookout Milkshakes
October 19, 2018
Throughout the school year, Cookout is considered to be a hangout spot for high school students. With all the sports and events going on, many teenagers enjoy grabbing milkshakes with their friends after school events. Cookout offers forty different milkshakes, but of those forty these are the top five:
5. Peanut Butter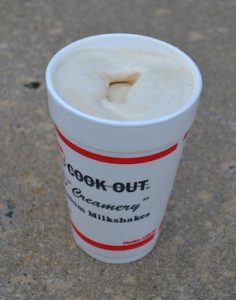 The fifth milkshake for the top five of Cookout is Peanut Butter. Peanut Butter is a common everyday type of food that people eat. So when someone can have it as a milkshake, that makes it even better. Peanut butter is also very creamy, so having it as a milkshake makes it extra creamy and easier to eat or drink. This shake is also listed in the top five because it can be mixed with chocolate and it can be considered one of the healthier shakes by itself.
4. Banana Split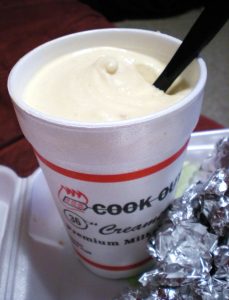 Banana Split is the fourth most popular milkshake for Cookout because a lot of people enjoy an actual banana split. When someone is craving a banana split, but they only have about 2 to 3 dollars, typically Cookout is where they will go. Because banana splits are a popular type of ice cream, people prefer buying them from cookout where they are easy and affordable to eat or drink.
3. Mint Chocolate Chip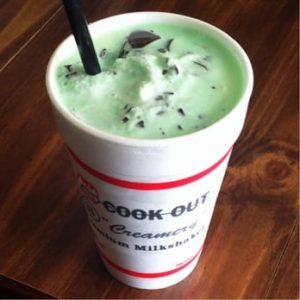 Mint Chocolate Chip is the third most popular shake for Cookout. This shake is a mixture of mint ice cream and a little bit of cookies n' cream. Many love this shake because of the cookie bits mixed in with the shake. A lot of people say it adds a little more flavor to the shake and makes the texture less smooth.
2. Oreo Mint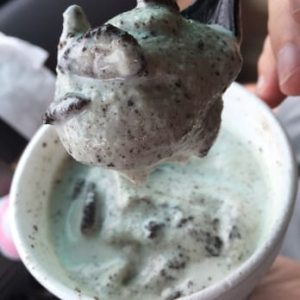 Oreo Mint is rated the second best milkshake from Cookout. Many of the customers prefer this shake because of its size. This shake is similar to Mint Chocolate Chip, but a larger size and more expensive. A lot of teenage boys prefer this milkshake after sports games, because regular sized milkshakes don't take long for them to eat or drink. 
1. Strawberry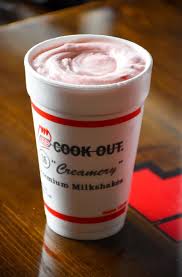 Strawberry is known to be the most popular Cookout milkshake by far, because it blends well with other flavors, such as their cheesecake flavor.  A lot of people who are more on the healthy side of a lifestyle are typically drawn to strawberry. Also, many prefer this flavor because of the fruit flavor.
These top five milkshakes are ranked at the top, because of how much they are sold. Also, they are at the top of the list, because they are known for their common flavors and good taste. Cookout is a well-known, all-american, fast food restaurant that is known for their popular milkshakes and variety of flavors.