Staff and students volunteer at Stony Mill's Fright Night
On Friday October 19, Stony Mill Elementary hosted their annual Fright Night. The event started letting people in at 5:30 p.m., with it ending at 8.
Before it began, the Tunstall Trojan BETA and Interact members helped set up the event from separating cheese from pepperoni pizzas to rolling in the humongous bouncy houses. They were greeted by an exuberant crowd comparable to Walmart on Black Friday.
The Stony Mill community gathered together to take part in Halloween festivities, such as themed mini-games, food, and bouncy houses. The volunteers were there to help dressed out in their Halloween spirit, wearing unicorn onesies and fortune-teller attire. Most of them had on their club shirts to represent the school while they were volunteering, while some just wore plain clothes due to chilly temperatures.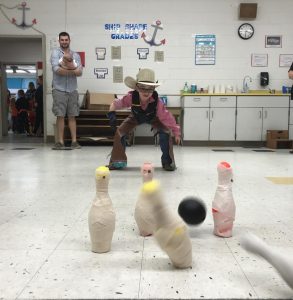 One of the core aspects of the clubs' volunteering was running the games for the oncoming children of the community. The games included spider grab, ghost bowling, pin the nose on the pumpkin, feed the monster, spider fishing, feed the pumpkins, ghost toss, spider race, and ring toss.
Each game had a basic set-up, two to four volunteers, and a prize bowl.The BETA and Interact clubs greeted each child of the community with warm embrace and encouragement to the game being played.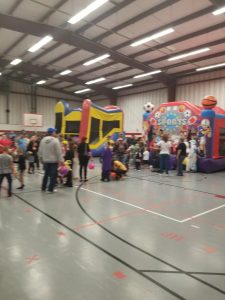 If a participant was lucky enough to enter the gym area, which closed at 7:30 due to its long line, they were greeted by two large bouncy houses. There were over 100 people dressed in their Halloween costumes to come and bounce. The volunteers for the gym guarded the bouncy house entrances to make sure all the little kids could have the best time without getting hurt. There were a couple of times where kids were having too much fun and unwilling to get off, but the night went off without any major problems.
Most volunteers had a great time with the children even though the inevitable sores and aches came about the next day. These teens have volunteered their time and energy to help out their community.
Leave a Comment