Senior night sparks mixed emotions for students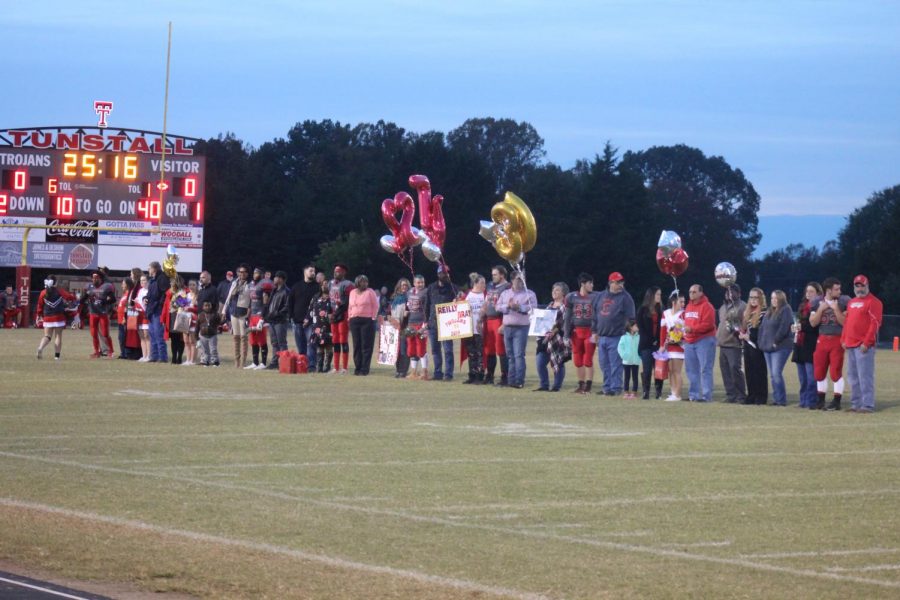 At the last home game of the season on Thursday Oct. 25, Tunstall won against Patrick County with the game ending in a score of 29-7. Before the game, the parents of football players, cross country runners, and cheerleaders lined up around 6:15 to escort their seniors.
Walking first were the senior football players including Clay Hardy, Grayson Hardy, Reilly Bray, Ryan Bartley, Khalil Wall, Zach Mensavage, Tony Totten. Tony Johnson, Gavin Pluta, Tyron Carter, Joce Covington, Marquise Wimbush, Aaron Cook, Seth Alverson, and Michael Thomas, and Hunter Cassada.  
Next, the senior cheerleaders were Emily Moore, Laura Scearce, Kelsey Edmunds, Alisson Sparks, and Skylar Hamlet. Then, walking for cross country was Emily Wallace, Aiden Bork, Luke Vest, and Jonathan Yoder. Lastly walking for ROTC was Dakota Wilson and Michael White. Lauren Gosnell was also recognized by the Trojan Vanguard Marching Band, and was escorted by her parents as well.
Their names were announced, and the parent of that senior's names were also announced, then Principal Brian Boles gave each senior a rose and shook their hand. It could not have been easy for the parents to realize their child was going to be graduating soon. It was overall a bittersweet experience.
"I think what I'll miss most is the companionship and brotherhood that we've formed. Our team is more of a family than any team I've ever played on and I think it's gonna be hard to say goodbye to the guys that have been brothers to me for four years. Also, I would tell any upcoming seniors to never waste a moment out under the lights because before you know it, it'll all be over," senior Clay Hardy says.
Cheerleader Laura Scearce says, "I started cheerleading this year because I've danced for all my life and that's something I love and I thought I would enjoy cheerleading because it has so many things in common with dancing and I just thought "Why not?". A piece of advice for the younger cheerleaders is win or lose, remember to have fun and that your team is family."
Being hit with the realization that there is not too long until the seniors graduate affects everyone from parents to teachers to younger students and siblings. Cheerleader Elena Booth says, " I'm gonna miss them so much because I'm the freshie and they're like my big sisters."
Despite the sadness some may have about the seniors leaving us soon, there is pride about their future because they are destined for great things.
About the Contributor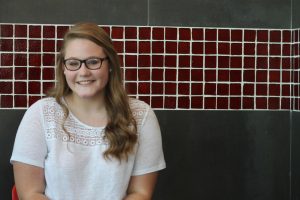 Lindsey Jamison, Reporter
Lindsey is a freshman and this is her first year being on the Trojan Messenger staff. She enjoys playing soccer and volleyball. She also enjoys watching...