UPDATE: One act play cast wins regional competition
October 26, 2018
UPDATE: Tunstall High School's one-act cast took home top honors at the Region 3D Theatre Festival.  The cast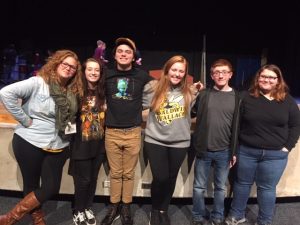 placed first among six competing schools. Camron Beale and Mary-Catherine Jones received outstanding actor awards. This first place ranking advances the cast to the state contest that will take place at Monticello High School in Charlottesville, Virginia, on Monday, December 3.Contributed Photo
Original Text: The one act play cast has been busy preparing This Side of Heaven by Don Zolidis for the Region 3D One-Act Theatre Festival to be held at Christiansburg High School on Saturday, October 27.
"You put in the work, and you polish the work, but performing is the most beautiful and terrifying thing about live theatre," said Mrs. Kristen Williams.
Lead roles are played by seniors Camron Beale and Mary-Catherine Jones. Juniors Carter Mills and Kimberly Shogan take on supporting roles. Lights and sound are operated by sophomore Meredith Hughes. Drama teacher Mrs. Williams serves as director.
In addition to daily rehearsals, the cast has performed twice in front of an audience. Most recently, the cast performed for classes that attended a noon performance the day before leaving for contest.
"I've never gone to a competition because this is my first show with THS, but I'm very excited to compete," said Jones.
"For the past three years, I have competed, and it is not just fun, it is fulfilling," said Beale.
Students found the short play humorous, realistic, and romantic as Chase and Fever, both rehabilitating life-altering injuries, find hope within each other. Through the performance there were plenty of laughs, goofy moments, and romance.
"I think we performed really well and and the audience seemed to like it," said Mills.
"['This Side of Heaven'] showed me you shouldn't put up a front; you should deal with things head on before they boil over," said sophomore Kayleigh Griffith. She added, "I thought it was funny when he was obviously just trying to flirt, but kept getting shot down."
The first live performance opportunity occurred on Thursday, October 18, as Pittsylvania County held the first One Act Play Festival in which all four county schools participated. The plays were acted out in the auditorium of Chatham's Educational and Cultural Center.
Chatham High School presented Such a Nice Little Kitty by Pat Cook. After a five minute intermission, Dan River gave the audience The Plot to Assassinate the Chase Manhattan Bank by Carl Larsen. Next on the stage was Gretna High School. Gretna's actors performed Death, Dante, and The Devil by L. Mark Depaulo. Last but not least, Tunstall High School brought to life This Side of Heaven by Don Zolidis.
The cast of "This Side of Heaven" will load the bus at 5am to travel to Christiansburg.