Kensley Yeatts makes time for it all
Hang on for a minute...we're trying to find some more stories you might like.
"I go to school, then go to cheer, then dance, then Fields of Faith at Chatham, then to Chick-Fil-A, then I go home, shower, and do homework. That's an average day in my life."
Junior Kensley Yeatts is one of the busiest members of Tunstall's student body. She's taking two AP classes, is junior class president, is a member of the varsity cheer squad, dances, and is an active member of her church.
"I've gone to Third Avenue Church all my life, I go most Sundays and I try go on Wednesday's too, when I have the time to make it.", said Yeatts. "Religion influences my daily life, especially on my bad days."
In addition to her religious spirit, Kensley strives to be kind above all else as her key virtue. "I make an effort to try and be nice to people because you never know what they're going through, and I've definitely been in positions where all I wanted was people to be nice to me," said Yeatts.
Her spirit definitely shines and makes her incredibly well liked. After all, she was elected to be junior class president in September. She wanted to make and impact on the school and take on a leadership position, so naturally, Yeatts ran for class president. "I'm extremely grateful to be class president, it's incredible."
Class president wasn't the only thing Yeatts added to her resume this year. She's now participating in her first year as a member of the varsity cheer squad. "This is also my first year cheering. I was super surprised that I made it onto the team, but I'm so grateful once again."
Her practice for cheer runs twice a week, stretches, jumps, and practice routines. The cheer season runs from football season to basketball season, essentially requiring an intense amount of work year round.
Her two AP classes, AP English Language and AP Calculus AB, also take up serious amounts of Yeatts' time. AP Classes are college level courses that students may take in high school.
When asked about how she felt taking these difficult classes, Yeatts replied, "AP English in particular, is a challenging class. We have lots of different topics to cover. We are expected to work hard and never slack. Yeah, it is a challenge, but it will be worth in the end."
In addition, her AP Calculus class is a math class which sums up all previous levels of math: algebra, geometry, trigonometry, and pre-calculus, and merging the concepts with calculus rules and procedures. "It is definitely a class I have some difficulty in, but I just have to push through and try my very best," said Yeatts.
All of the extracurricular activities and AP classes can certainly stack up, but Yeatts is willing to make the sacrifice. Yeatts hopes to attend college and major in Physical Therapy and eventually land a career in the field. She also believes that all the hard work will build a positive character and build some positive habits to take with her in life.
It's evident that all of the work she's doing now will certainly pay off for her in the long run. "It's definitely added some more chaos to my life, but I've enjoyed it."

About the Writer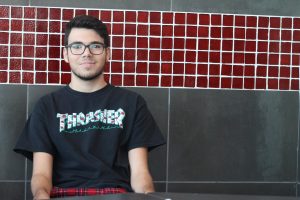 Joseph Costagliola, Social Media Manager
Joseph Costagliola is a junior and first year journalism student. He attends Piedmont Governor's School and is constantly stressing about his academic...