Mrs. Calloway lends a helping hand in special education
November 29, 2018
Teaching is a field that requires patience, devotion, and, most of all, compassion towards both students and faculty. In the field of special education, these traits are needed more than ever to work with the students involved. Fortunately, no other teacher stands out in this field like Special Education teacher, Mrs. Shannon Calloway.
Before she joined the Trojan staff, Calloway worked as a pharmaceutical representative. However, she quit because she felt as though she wasn't truly helping anyone.
"That's why I love working in Special Ed more," said Calloway, "You get to actually work with those who need help in an all-inclusive environment, and to me that's more rewarding."
Calloway has worked at THS for seven years. She started in support and inclusion classes and now teaches the self-contained class.
"The purpose of the self-contained classroom is to give students with disabilities specialized interventions and support. The class is sometimes smaller in size than a general education class, with a lead teacher and several support staff paraprofessionals."
As a class designed to feel like family to the included students, this requires a large amount of staff that share many of the same traits as Calloway. Fortunately, Calloway works with other members of the THS staff to teach her curriculum including Ms. Kasie Williams, Mrs. Amy Phelps and Mrs. Tammy Day.
She is also grateful to her colleagues in her department Mr. Adam Louhoff, Mrs. Tanya Jones, Mrs. Robin Rayfield, Mrs. Patricia Buchanan, and Mr. Michael McGregor.
"They're all very helpful and supportive. I couldn't ask for a better group of staff to work with."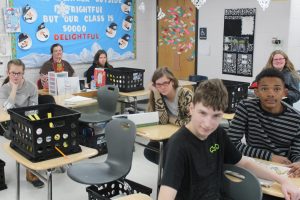 The curriculum in Calloway's class differs greatly from the lessons in a standard class. Activities may include watching movies set during a certain time period to teach history, or hosting parties with healthy, organic foods to teach students about nutrition and proper health habits.
"The activities we do in the class are fun. They're my favorite part of the class," said junior Emily Griffin, "Mrs. Calloway makes them lots of fun."
"[My favorite part of teaching is] when the kids understand something and have that little "Aha!" moment, it's the best feeling."
"[The most challenging part is] some days, I try to teach them, but it seems like they still don't get it, no matter what I try. But that doesn't usually last long."
Calloway not only serves her job as a teacher well, but also serves as a great source of family to her students and a friend to her co-workers. Calloway has said she will continue to work in her current position until she retires.
"These kids are like family to me, and they've shown me that I'm like family to them. I wouldn't trade this in for anything else in the world."