Danville parades through inclement weather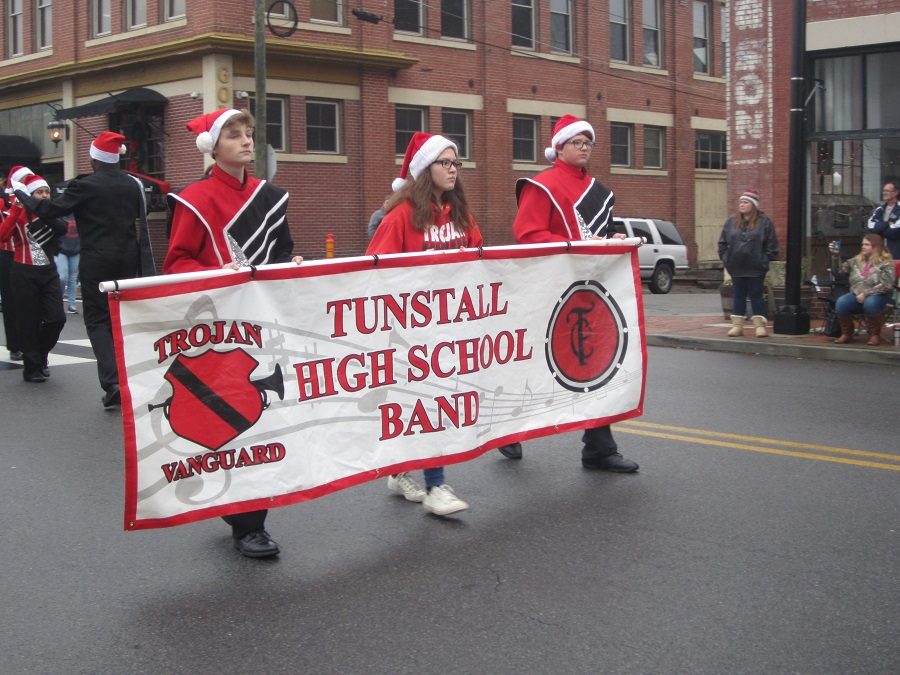 The Danville Christmas parade is, no doubt, one of the most anticipated local events of the year. Traditionally the parade starts on Main Street and heads down Craghead Street in Downtown Danville.
This year's parade was cold and featured light rain showers off and on. The parade started around 3 pm and lasted a little over an hour and a half. Despite the weather, the crowd was consistently filled with Christmas spirit.
First to enter the crowds sights were the joggers whom were dressed in joyful Christmas sweaters or movie characters, such as The Grinch. Some runners even brought along their dogs.
Of course, every official start to any Christmas parade is a police car leading the way which was followed by Danville's Police color guard. Followed behind them was Danville's city council with Mayor Alonzo Jones, riding in a old-fashioned, orange and tan truck.
Next onto the streets were a few people carrying banners advertising different companies and organizations. The first float to be seen was the URW Community Federal Credit Union dressed as How the Grinch Stole Christmas.
Most everyone in the parade and the floats were based off of well known Christmas movies such as How the Grinch Stole Christmas and Polar Express. Other floats were decorated with Christmas colors and trees, children sitting around a fireplace, and a lady reading a children's book to the children on the float. One out of the ordinary float was based off of the twisted Christmas movie and folktale: Krampus.
Some other special sightings were the many police cars, fire trucks, and ambulances to pay tribute to those who work locally to keep the city safe.
Tunstall's own appearances were first made with a banner labeled, "Tunstall High School Army JROTC Dry Fork, Virginia," followed by Civil Air Patrol marching with flags in hand, followed by Tunstall's JROTC. Next were all divisions of Tunstall's cheerleaders who handed out smiles and candy to the crowd on the side walks.
Tunstall's next appearance was the Tunstall High School band playing as beautifully as every other school band who marched by. The band was followed by the Trojan Color Guard who twirled their flags to the beat of the song being played by Trojan Vanguard.
The rest of the parade went by smoothly and with a lot of Christmas cheer. George Washington High School rounded out the parade smoothly.
Many horses were seen throughout the whole parade. Santa rode in a horse drawn carriage, waving to all the children on the side walks.
Despite cold and rainy weather, Danvillians were able to come together in good spirit and good fun and enjoy one of the most enjoyed holidays of the year in a classic, wholesome fashion.
About the Writer
Maya Payne, Reporter
Maya Payne is a sophomore experiencing her first year working for the Trojan Messenger. Out of school she indulges in reading fictional books, drawing,...