Dominating the culture: Top 5 rap albums of 2018
December 18, 2018
2018 has been regarded as one of the best, if not, the best, year for Rap of the decade. Long awaited releases from fan-favorite artists have been pumping out constantly, not to mention the rise of many new contenders to the field such as 27-year-old Atlanta rapper, J.I.D.. The year has also been sprinkled with high quality beefs between A-list rappers that have produced amazing diss tracks and kept the energy high. Examples of these include Pusha T vs. Drake, Joyner Lucas vs. Tory Lanez, and somehow, even Machine Gun Kelly vs. Eminem. Speaking of Eminem, 2018 saw releases from long time veterans of the game, including Shady himself, Lil Wayne, Kanye West, and Nas. From Kanye outbursts to Cardi B domination, the cultural landscape has been completely drenched in Hip Hop.
Kids See Ghosts by Kids See Ghosts
This is not just the best rap music 2018 had to offer; this is the best music Kanye West has ever pulled off. The third album to be released as a part of his seminal Wyoming sessions, "Kids See Ghosts" is a collaboration with long-time protege Kid Cudi.  Sounding wholly unique compared to both modern rap and Yeezy's own already-unique discography, it appears to its listeners as completely immersed in the sounds of neo-psychedelia and avant-garde Hip Hop. Much like "Ye", released just one week earlier, it runs at a short-but-sweet twenty-ish minutes with seven tracks; which also equates to an experience that is all killer, no filler. From Cudi's howling which opens the record on "Feel the Love", to the quiet strings and synthesizers that let the project coast into oblivion on closer "Cudi Montage", the watertight self-dissections brought by the duo on this debut have provided the millennial generation with their experimental, yet beautiful mental health opus.
Travis Scott had been teasing this long awaited album since 2017, so much so that fans began to believe the album was nothing more than a mere myth. Thankfully, Scott finally released his 3rd studio album in August at a point where expectations were phenomenally high. ASTROWORLD opens quickly and powerfully with two tracks that play off of each other's energy beautifully in "STARGAZING" and "CAROUSEL". The album from this point is able to keep the energy high and saw releases of fan favorite songs such as "SICKO MODE", which revels in the lucrative life of success of the famed Houston rapper. If I were to summarize this album in one song, this would be my choice. With three different beat switches and features from Drake and Swae Lee, this song alone is almost enough to be worth the wait. The album's greatest strength to me is that in its 17 tracks, there really isn't a single song that I would consider to be filler. The re-releasing of his single "BUTTERFLY EFFECT" was slightly unnecessary, but the track itself is a classic Scott anthem to begin with. One element of this album that I believe was immensely successful was the storytelling of two lives: that of his glamour and that of his life as an ordinary Houston citizen. With absolute certainty I can say that Travis lived up to his reputation of a modern-day rock star; or rather, La Flame.
     3. Ye by Kanye West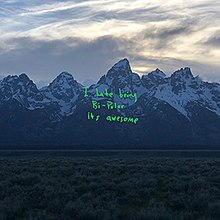 Simply put, "Ye" is quite possibly the best apology note of Kanye's career. While the twenty-odd minutes this nostalgic album runs at is scant compared to 2016's "The Life of Pablo" and its "never complete" concept, the copious amounts of filler is absent; as Yeezus is becoming Kanye again. The egotism which is arguably West's hallmark is not missing on this heat-of-the-moment thrill ride, but rather, it is put on the chopping block for commentary. From opening track "I thought about killing you", Kanye overtly displays the presence of his self-centeredness in the most depressing way imaginable, stating that if he loves himself as much as he does and still hates himself, than no one else really has a chance. This is representative of the entire album, as the apologies to his wife over his controversies this year, the overt references to fans hating his MAGA phase, and the newfound perspective on womanhood he gained from fatherhood all read like a prideful maniac becoming a garden-variety maniac again. I could not be happier with the results.
Denzel Curry started 2018 as one of the quieter figures within the rap scene. Most people were probably only aware of his existence via the 2016 XXL Freshman Cypher, if they even remembered him from that. This attitude toward Denzel quickly changed after he released the lead single for his upcoming album: "CLOUT COBAIN". The song title as almost as standout as the song itself, challenging the popular approach to fame and stardom, "clout". In addition, the song was an attack on the music industry for the strain that it creates for its artists. Once TABOO dropped in April of 2018, Denzel had solidified himself as a member of the top tier of rap. The album is centered around a theme of a circus like three act plot, its songs changing themes and styles from the opening joyous songs of "BLACK BALLOONS" and "CASH MANIAC" to darker tracks like the aforementioned "CLOUT COBAIN" and "THE BLACKEST BALLOON". Denzel makes perfect use of the three act approach to his album to essentially release three micro albums into one powerful, clean punch of a 43 minute record. Denzel has recently received media attention for some pretty viral and aggressive tweets claiming that he will take over the rap scene in 2019, and I think he has a right to. If Denzel sticks to this level of creative power and chooses to rap about important themes, he has only up to go from here.
I remember exactly where I was when I heard "Shattered Dreams", the opening track to rapper Earl Sweatshirt's avant-garde jazz opus, for the first time. I was dazed and barely awake after a night of freezing temperatures and insomnia, which is very fitting. Released just months after his father and close family friend died, the young rapper has spent the better part of this year paying his respects. As his father was a poet and his "Uncle Hugh" was a jazz composer, he spends the 25 minutes this album runs at in a hypnotic flow over experimental jazz beats. The 15 tracks of the album usually run at only a minute and a half long, which, due to the uniformity of the beats and flows brought by Earl and his collaborators, leads the record to feel like a single, ever-shifting stream of consciousness. The record is almost unbearably depressing, as the psychedelic but blunt lyricism reads like a boy trying to put his moral compass back together like the men who inspired him: the men that are now gone. However, direct tributes "Playing Possum" and "Riot!" instill the tiniest hope of recovery for the Odd Future veteran, as these beautiful sound pieces that end the record are as beautiful as they are bitter-sweet. Earl has "a lot of blood to lett" on this record, but the peace it is giving him is more important than anything anyone could say about its enjoyability. Luckily for the world, it is as cathartic for us as it is for him.
2018 has been probably the best year for rap and hip-hop culture of the decade. There were numerous phenomenal records such as Lil Wayne's Carter V, J.I.D.'s DiCaprio II, and BROCKHAMPTON's Iridescence, but in a critical and objective sense, the albums listed above are more than just good albums. They tap into their respective artist's potential and set examples for other artists to follow in the future. Going forward, the rap community looks like it isn't stopping, either. Kanye West's Yandhi and Lil Uzi Vert's Eternal Atake are two albums that have been teased and will probably be released in 2019. With both of these headlining albums, in addition to the many more likely to be released, it is very hopeful going into the new year that the hip-hop scene will continue to thrive.