Clubbing it up at Tunstall
Hang on for a minute...we're trying to find some more stories you might like.
 There are so many clubs offered at THS that fit the many varied personalities of the students. From clubs that are more tapped into the students' brains, to clubs that are more hands-on, students are encouraged to find something that interests them. Many of the rising freshmen, and even  some returning students, are unaware of all the different clubs that they can join. Here are some of the clubs and how they can be joined. 
Academic Competition for Excellence (ACE) 
The new scholastic bowl format, ACE, has taken the place of SCAEL.  The old SCAEL format was subject-specific where ACE will require students to be more well-rounded in their knowledge. In addition to core subjects there will be more emphasis on the arts, pop culture, and current events than in the past. Practices will start in September, and the competition season is October-January.  THS will have both a JV and Varsity team. Mr. Aaron Book is the sponsor.
Art Club 
To join the Art Club, you must be currently enrolled in an art class for the 2019-2020 year or you must have taken art at the high school level. There are four different art classes you can take: Art I, Art II, Art III, and Art IV. If you are a person that likes to sketch or draw then art is for you. The fee for art is $10.The Art Club participates in many projects and plenty of drawing/painting. 
BETA
To join BETA the student must be invited to join after filling out a form saying he/she is interested. It is also required that the student has and maintains a GPA of 3.4 or higher. First time members must pay a fee of $40 and secondary members pay a fee of $25. Applications and fees are due by Sept. 6.
DECA
DECA will be participating in many activities this year and is a very positive and helpful club for students to join. To join the student must fill out the form giving the proper information and pay a $20 fee.
FBLA
To join FBLA (Future Business Leaders of America) the student must fill out an application and pay a $20 fee. The hope for the club this year is to go back and compete in the state competition. 
FCA
Fellowship of Christian Athletes is a club sponsored by Deputy Silverman. They meet every Wednesday morning, and though its name makes it seem like the club is only for athletes, anyone can join. New members must pay an annual fee of $15. FCA holds annual water and food drives, and they do Bible studies led by a new student every week. The goal is to get Christian students to support and encourage each other in any and every aspect of life.
FCCLA
To join FCCLA (Family, Career, and Community Leaders of America) the student must fill out an application and tell whether they are a new or returning member. The students will have the opportunities to participate in fundraising activities, volunteer work, and becoming an FCCLA officer if her/she wishes.The mission of FCCLA is: to promote personal growth and leadership development through Family and Consumer Sciences education. Focusing on the multiple roles of family members, wage earners and community leaders. Members develop skills for life through: character development, creative and critical thinking, interpersonal communication, practical knowledge, and career preparation.  The fee for joining is $15.
FFA
To be in FFA  (Future Farmers of America) it is required for the student to be enrolled in at least one agriculture education course in the year or a planned course of study, and both have to include an SAE (supervised agricultural experience) program. The student must fill out a form and pay a $20 fee to join. The first chapter meeting will be held in the school cafeteria on Wednesday, Sept. 11, from 3:15-4:00 p.m. They will also be participating in Pittsylvania County Ag Day on Thursday, Sept 12.
The Fishing Club
The Fishing Club has been a part of THS since 2015. To join students must pay a $35 fee and fill out an application. Some requirements to be in the club are that students must have a boat of their own or someone with a boat that is eligible to take them for meetings. They must also be a member of B.A.S.S. If they are not already a member, the student will receive a discount to join B.A.S.S of $10. Meetings usually happen on Saturday or Sunday and the club lasts from the fall into the spring.
French
To join French Club the student must either be currently in a French course or has taken at least 2 years of French in the past. To join is free and any plans for future activities this year are in the making now. 
Interact Club
The Interact Club is a community service organization that meets on the second Thursday of each month. The club has plans to work with God's Storehouse, God's Pit Crew, and Habitat for Humanity this fall.  Anyone is eligible to join. See club sponsor Mrs. Adrian Nester in F109 for more information. It costs $10 to join and includes a t-shirt. 
SCA
Joining SCA (Student Council Association) is very simple only requiring students to fill out a form. In SCA, students are representatives of the student council and will participate in meaningful school-driven activities. The student must also agree to assist with two projects involved with SCA and its sponsors. The SCA plans to run the bonfire for Homecoming on Monday, October 7.
Spanish 
Spanish Club is open to all students in Spanish 2, Spanish 3, Spanish 4, and Spanish 5. The student must fill out an application and turn it in by the deadline of Sept. 6, 2019, and pay a fee of $10. Applications are available from Ms.Stowe in room A110.  The Spanish Club will allow the students in the club to pick the best days to meet and the  goal is to meet at least five times this school year. 
Trojan Club 
Trojan Club is based more around supporting THS school spirit and our athletics. To join the student must be on a varsity team and pay a $5 fee. The student has the potential of being awarded a college scholarship at the end of his/senior year. Last year three $350 scholarships were given out. Trojan Club is also over PowderPuff and all girls are welcome to participate and forms will be given out within the next few weeks.
About the Writer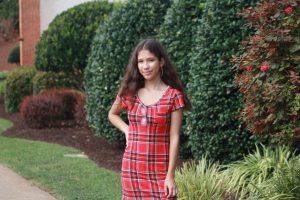 Brittney Eames-Ramirez, Photography Editor
Brittney Eames-Ramirez is a sophomore this year at Tunstall and a fresh face to the Trojan Messenger. Hoping to become a lawyer and an author, creative...