Traveling Trojans: taking over the summer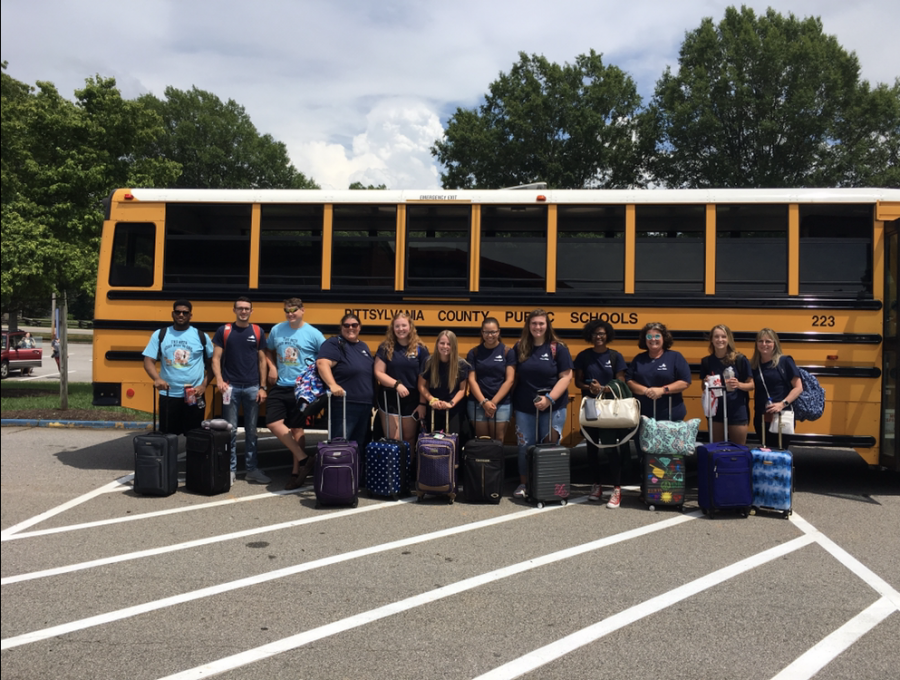 Ca-ron Murphy, Features Editor
September 13, 2019
As the 2018-2019 school year drew to a close, many of our FFA, JROTC, and BETA clubs were gearing up for summer events. These clubs dedicated extra time and effort toward expanding their outreach and traveling outside of the city for greater opportunities. 
Remembering the heroes of the past
The JROTC  made their journey to Bedford, Virginia, where Vice-President Mike Pence was scheduled to speak at the 75th anniversary of D-Day on Thursday, June 6, 2019.  Our cadets flanked the Vice-President Pence as he spoke on the impact this pivotal moment in American history had on our country's future.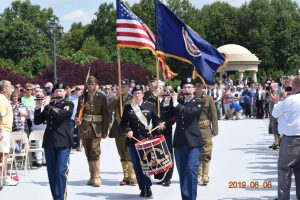 JROTC arrived at the memorial early that morning in preparation of their duties. Colonel King and Sergeant Major supervised the following students as they held their positions: Quinton Murphy, Jesse Brooks, Jackson Kime, and Logan Hutchinson. The featured cadets were dressed in period-correct battle uniforms corresponding with D-Day.Over 12,000 people were in attendance to pay respect for those who participated in the war efforts. Our JROTC was featured in many articles and news sources from local southern VA news to the national news such as The Washington Post. As Col. King and Sgt. Major Royal were both very proud of their cadets for their performances in this event, they hope they will carry some of the experiences they've had in JROTC throughout life.The National D-Day memorial was originally dedicated in 2001 by President George W. Bush to commemorate all those who fought, and the many who died, to protect the country they loved. The memorial is located in Bedford, VA due to the disproportionate amount of soldiers per capita from the Bedford area who were enlisted, in which many did not return home after the war had ended. That city, even more so than the rest of the country, was severely affected by the death toll the battles had taken. The economy of the town had much to recover from and the strength as support of our nation is what ultimately assisted Bedford's recovery. 
Colonel King would like each participant from that day, "to grasp the sense of history and significance this memorial has emphasized for those who sacrificed all they could to protect those at home while they were in combat." 
Continuing a tradition of urging competition
Less than two weeks later our FFA chapter would attend the 93rd Virginia FFA State Convention in Blacksburg, VA starting June 17, 2019. The convention was held on Virginia Tech's campus with a record breaking attendance with a crowd of over 1,500 people this summer. Dr. Jones accompanied three very active members as they carried out their competitions. These three students were senior Megan Pollok, senior Jacob Bowden, and Casey Toney, class of '19; all of which served as convention delegates. While on Tech's campus, the FFA members were able to compete in various events.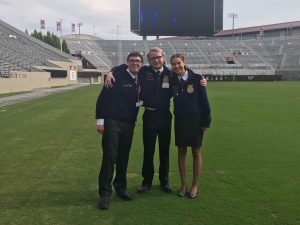 Jacob Bowden placed third overall in the Computer Applications event, an event centered on advancing computer abilities through creating spreadsheets of word processing to further hoan in on technology awareness. Bowden also received the VA Tech Collegiate FFA Jacket scholarship as the committee was pleased to hear how much of a positive impact the club has had in improving his life. 
Pollok, Bowden, and Toney all competed in the FFA Turf Management team: placing in fifth, fourth, and second. Pollok, placing in second, later moved to the final four stand-off on June 19. Pollok later competed in FFA's Employment Leadership Skills event on June 18 and 19 as went on to win first place in this category. The Agribusiness team composed of Pollok, Bowden, and Toney placed seventh in the state. Pollok, Bowden, and Toney also placed individually: Bowden 27th, Toney 26th, and Pollok 11th in the state overall. 
Dr. Jones' efforts paid off greatly during our school's FFA chapter state convention. All of the members in attendance placed respectively in their categories. As she continues her idea of support and drive to all of her students, she wants perspective members to know that, "Every year, FFA members from across Virginia attend the Virginia FFA State Convention to celebrate their accomplishments and find inspiration for their next steps in the organization and in life. Motivational keynote speakers, intense competition, fulfilling workshops and interaction with peers and industry leaders are experiences students will remember forever. From participation at the State FFA Convention, [she] wants FFA members to grasp their opportunities to grow, learn, lead and succeed as FFA members and as people."
Believing in our Betas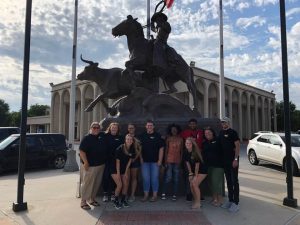 The day after FFA started their state competition, Beta was preparing to depart for their own. On Tuesday, June 18, 2019, Mrs. Tara Mills and Mrs. Jennifer Watson were coraling the students the school bus to drive to the airport where their trip to the National Beta Convention would begin. To qualify for Beta nationals students were either accepted by the Beta Leadership Conference at Great Wolf Lodge or placed in Beta's State Convention in February. 
Beta National Convention was located in Oklahoma City, Oklahoma, this year and had over 20,000 Beta members and alumni in attendance. THS Beta took 10 students and 4 chaperones on this trip. The students who competed at nationals were: Class of 2019 graduates Mary-Catherine Jones, Eli Ashworth, Morgan Hairston, seniors Ca-ron Murphy, Brooke Lahti, Amanda Talbott, juniors Derek Dallas, Kaleigh Griffith, Jackson Kime, and sophomore Elizabeth Lee. They were accompanied by Dave Seymour, Carole Talbott, Tara Mills, and Jennifer Watson as their chaperones. 
Talbott became the Regional Leadership Representative in her candidacy at Great Wolf Lodge and competed in the running for National Leadership Representative in OKC. Kime competed in Social Studies 10 and placed in the top 10 in the nation. Lee and Jones both placed in visual arts. Hairston competed in poetry and English 12 written events. Dallas competed in Division One speech. Griffith and Murphy submitted entries into the Technology. 
One of the final events at convention was the Lead Outside The Box event which involved problem solving and communicative efforts that required cooperation between all of its participants including: Kime, Lee, Murphy, Lahti, Griffith and Dallas. This event was a continuation of the challenge at Great Wolf Lodge where our Betas finished their category in less than five minutes. Beta concluded their convention with the election of the first black female as national Beta president. As she pounded the gavel concluding the convention, she solidified the hope and opportunity emerging leaders had to Fuel the Future, Beta's motto for the year. 
When Beta's returned home they had to say goodbye to the graduating seniors: Eli Ashworth, Mary-Catherine Jones, and Morgan Hairston as they prepare for their new journeys in college. Our Beta advisors would like every student who went on the trip, and those considering on competing in the future "to learn how to network on a national level and be inspired to reach out and find a sense of wonder in a place they aren't used to."
Each of our year-round active clubs dedicate their free times and summer vacations to the cause of bettering their purpose and support.