A fair-ly good time
The annual fair, a time when kids and adults alike go to enjoy themselves. The smell of hot dogs, funnel cakes, popcorn, and cotton candy floating through the air tells a tale of its own. A nostalgic feeling is created when you leave because it was just so much fun. For many it's a tradition to come and ride the same rides every year. 
Sometime around the first two weeks in September the fair rolls around for our small town. No matter which night of the weekend anyone goes, it is sure to be packed tight. The parking can be hectic and let's not even get started with the 10+ minute wait in line just to get tickets or a wristband. But once everyone steps inside, it's like being thrown into another world. A world of bright lights, laughter of joyous children, and the screams of those being tossed around on rides coming from every direction fills you with delight. 
Although for the first-timers at the fair, especially the young ones, it's one of the best days/nights ever. From the blaring music that everyone seems to jam to, to the rides that flip and toss the riders until their brains feel like mush. It all comes together to be a night to remember. Not to mention it makes a great date night for teens and adults. The Ferris wheel and the swing make for great rides to just spend time with the one you love and appreciate each other. 
Meanwhile for the people that have been going for years, it's like the fair has been there through the persons growing up. The first time going to a fair is usually when a person is a kid, young and innocent. A few years pass, and it's the same kid, just older now, with a group of his/her friends all getting a small taste of freedom for what may also be another first time experience. Next thing you know it's the same person, yet this time they're with a person that they love going to the fair to spend time with each other just laughing and enjoying one another's company all night. And lastly, if the person decides to settle down in their hometown, they come back with a family of their own giving their little ones the same excitement they had for their first fair. 
This year the 29th annual James E. Strates Show fair will be held Sept. 13-21 at the Pittsylvania County Fairgrounds.
About the Photographer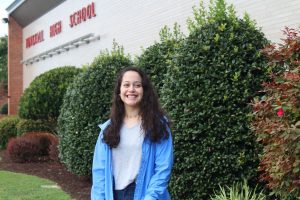 Daniella Espinoza, Editor-in-Chief
Daniella Espinoza is a Junior at Tunstall High School and this is her first year on the Trojan Messenger staff. She enjoys hanging out with friends, heavily...