September 11th remembered one generation later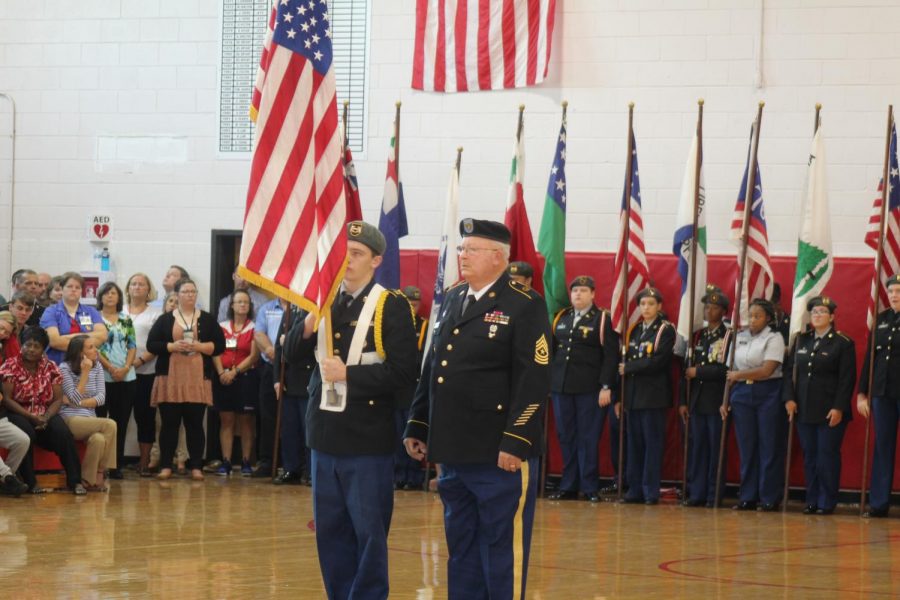 Tunstall High School assembled to commemorate the events of 9-11 with a student body that was largely not born when the tragic events of September 11, 2001, occurred.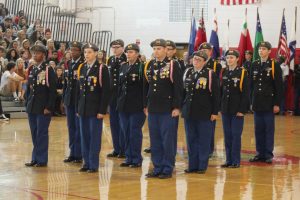 Principal Brian Boles opened the ceremony with a moment of silence and pledge. The colors were presented by the JROTC with the flag carried by junior Brandon Day who was born on September 11, 2002.
"[JROTC] is very important, I want to go into the U.S. Army," said junior Brandon Day.
The Tunstall High School marching band performed the National Anthem led by drum major senior Malik Thornton. 
Mr. Boles reflected on his memories of the tragedy and visiting the memorial in 2010. "That day challenged the integrity and the character of her people," said Boles. 
He also wanted to remind students to "remember the police, fire, and rescue workers and the citizens who cared for them." This was followed by a recognition of active duty and military personnel at center court. This included Tunstall faculty members Matt Beard, Tammy Beckelheimer, Colonel David King, Nathan Noble, Sgt. Major Hubert Royall, Jeremiah Sanom, and Ed Sherlock. Additionally, School Board Representative, George Henderson and two current visiting Marines were also recognized.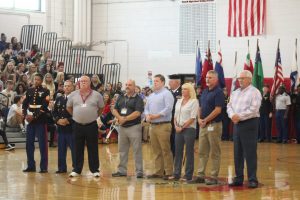 The award winning Tunstall High School drill team presented an impressive drill demonstration.
Mr. Boles concluded his portion of the ceremony with the description of the Freedom Flag which is also flying in front of the school. 
Mrs. Kristen Williams presented a recounting of the events of 9-11 with an emphasis on three students who were in the plane which crashed at the Pentagon. The 11 years olds never made it to their field trip.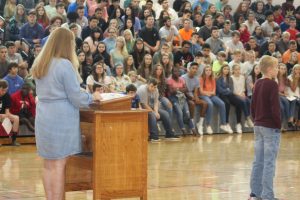 She used her own son, Noah, as a demonstration of the age of children that were killed.
"I had a moment last night…I thought if they could see it, it would mean more rather than hearing about it," said Williams.  
She closed the ceremony with a reading of "If the American Flag could speak" written by the Richardson Community Band in Texas. In the poem the flag cries out to "Dream your dreams. Dare to believe."  
About the Writer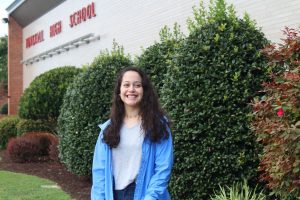 Daniella Espinoza, Editor-in-Chief
Daniella Espinoza is a Junior at Tunstall High School and this is her first year on the Trojan Messenger staff. She enjoys hanging out with friends, heavily...