Joe Mantiply: The story of pro pitcher and THS alumnus
This story has been republished. Original publishing date: October 4, 2019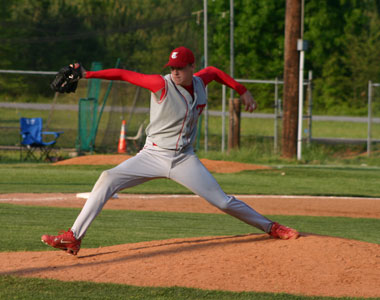 The THS baseball team has produced several pro caliber talents. Guys like Ed Fulton, Eric Owens, and Will Inman have cemented their legacy in the halls of THS. However, one man is still working his way to the top. 
As the Yankees begin their postseason bid against the Twins tonight, Tunstall High School alumni, Joe Mantiply, is still eligible to be called up to play. While the graduate feels that it is unlikely that he will be called up since he was not called up in September, locals are still hopeful.
Joe Mantiply is a relief pitcher for the New York Yankees organization, but before he was striking out major leaguers, he was a special prospect at THS. Head coach Barry Shelton knew the moment he saw Joe he would be something special, "Our coaching staff knew early on with Joe's 6'5″ frame and being a left handed pitcher that he had a good chance of playing Division I baseball and pro baseball," Shelton said. 
Joe came in as a freshman in 2006 and made an instant impact by winning a state semifinal game against Northside. His legacy carried on with an impressive win-loss record of 33-2 and totaling 358 strikeouts. These records allowed him to be drafted out of high school by the New York Mets; however, he chose to further his academic and athletic at Virginia Tech University. 
Mantiply continued his reign of dominance in college and was drafted after his junior year by the Philadelphia Phillies and after his senior year by the Detroit Tigers. Mantiply eventually signed with the Tigers and thus he began his pro career. After a lot of time playing in the minors, moving from team to team, and recovering from Tommy John surgery, Mantiply was called up to pitch for the New York Yankees on August 12 versus the Baltimore Orioles. 
"I think that this call-up was different in a few ways. I felt that mentally I was more prepared this time than I was in 2016. I think I have matured a lot over the past three years. Also, I felt more comfortable and a sense of belonging. It's easy for young guys to get on that type of stage and feel that they may be in over their head. I felt that way the first few times I pitched in the big leagues."
"This most recent time I felt very confident in my abilities," Mantiply said. This was a big opportunity for the former Trojan and he wanted to make sure he took it one step at a time.
"Mainly I wanted to focus on how I was going to attack the first hitter I was coming in to face. The pitching coach told me prior to the game when I was going to enter the game so I was able to prepare myself for that moment," Mantiply added. 
Mantiply made a huge impact during his time at THS and it has carried him into the major leagues. The New York Yankees open up playoff baseball against the Minnesota Twins on Friday, October 4.  He will continue to make Danville and THS proud as he furthers his pro career.