Doing what I love for the school I love
Summer has come to a crashing halt, and we experienced that firsthand August 9 this year. Another year in the books, but of course nobody's that excited to be back at 100 Trojan Circle.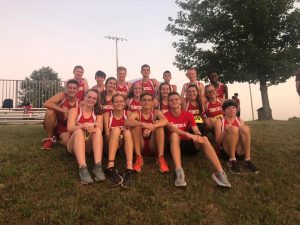 Except for me, I actually love being here every single day.
Some days more than others, but all the same, I love my school and I'm proud of it. I've been here for two years but I wouldn't rather be anywhere else. Summertime isn't that great for me, I miss my friends, I miss my teachers, I miss the structure of school and the rules. I miss eating lunch with my friends and putting my books in my locker. I love forgetting my Spanish textbook so often even though I've told myself a million times to remember to bring it. I love walking the halls of Tunstall and seeing the people I've gone all through school with and I love seeing the teachers I've had previously, smiling and waving and reminiscing on their classes. I love passing my current teachers and smiling. 
Spirit week may be a little overrated, but I love it nonetheless. Showing my school spirit in the wackiest ways, and seeing who can dress up the craziest and most extravagant amazes me to no end. The pep rallies filled with screaming teenagers, teachers with migraines, and a band full of kids playing their hearts out is one of my favorite times of the year.  Last year I was too scared to yell to the best of my ability, but the near tears of joy in my eyes and the feeling of pride and utter happiness rang out louder than my voice would have dreamed of being. Every home football game, I was there. Several volleyball games and band competitions, you'd see me in the stands holding my camera or yelling my heart out in the attempt that my sister playing her flute would hear me. You'd catch me in the stands at games beaming with pride, no matter what the scores were. 
It's not just watching the sports either, it's being involved in sports and clubs. As a member of the robotics club and a cross country runner it brings me copious amounts of joy to represent my school. I love putting on my uniform going to meets, I love wearing my robotics shirt and going to competitions. I love hearing my teammates cheer me on and I love doing the same for them. At every meet, every competition, I'm there with my team, with my family, doing what I love for the school I love.
 We are nearing the end of the cross country season, and like always, the team begins to push harder to ensure that we make it to districts. I'm proud of my team to a ridiculous point, and I'm so glad I've gotten to share the last year and a half with them. So far, we've managed to pull off a first place win in both boys and girls, a home meet where nearly all of us beat our personal record times, several races where none of us thought we would finish, several rounds of tears, sweat, blisters and an amazing coach who keeps us on our feet.
I'm proud to be part of these activities, and I'm proud to be a Trojan.