"…And Others" cast performs for student body
Mills takes home Outstanding Actor award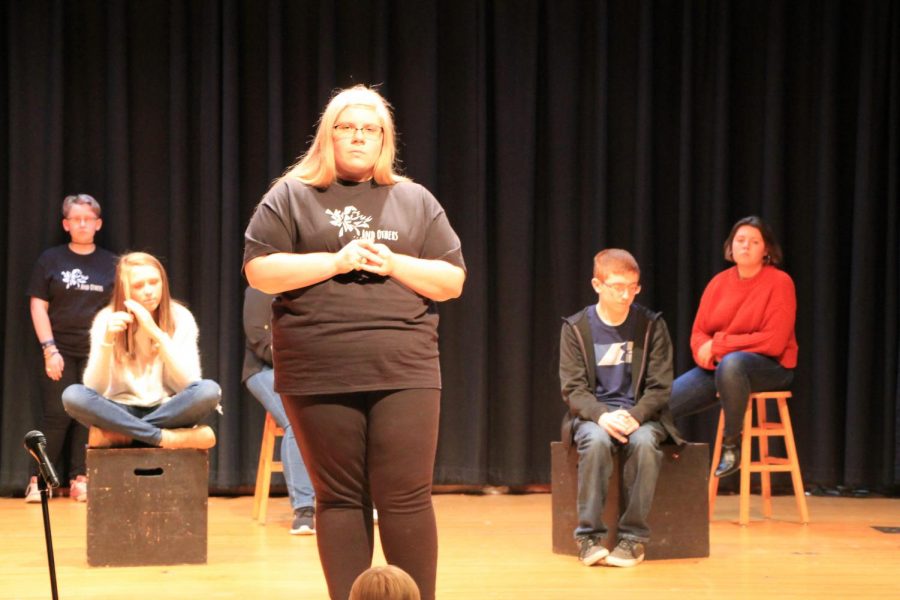 The One Act cast performed their play "…And Others" for their peers at THS on Thursday, October 31. The play consisted of eight students in all- Brook Burke, Destiny Lynch, Jennifer Quintero, Haden Wence, Phoenix Payne, Lexie Wilmoth, Kimberly Shogan, and Carter Mills. The lights were operated by Madison Higgins. 
The play was about a woman named Amanda who has dissociative identity disorder, formerly known as multiple personality disorder.  Amanda, played by junior Phoenix Payne, was the main personality and also the body that consisted of her hidden personalities. Amanda hadn't been born with DID, it actually only began after she went through a very traumatic experience of being forced to shoot her father. 
Freshman Brooke Burke played the personality Kade, the personality formed by Amanda to help with trauma release. "The hardest part about playing this role was portraying sadness because I'm normally a very happy person," said Burke.
Freshman Hadyn Wentz played the personality Katarina, the personality Amanda formed as a way to hold onto her youth after the traumatic experience she went through. "The hardest part about this role was managing time because we were always practicing, and I have a life," said Wentz. "I might want to be in another play, it just depends what it is," continued Wentz. 
Sophomore Jennifer Quintero played the personality Rachael, the personality Amanda formed that puts up a facade of toughness. "I feel at home when I'm on stage, not nervous the way I thought I'd be. I'd love to be in another play," said Quintero.
Junior Phoenix Payne played Amanda, the original host that all of the personalities branched off from. "The hardest part about my role was remembering my lines and the anxiety right before going on stage," said Payne. 
Senior Lexie Wilmoth played the personality Maya, the personality Amanda formed as another protector or barrier for herself. "The hardest part for me was playing a character that was so like myself, but not being myself, if that makes any sense," said Willmouth. "I'd most definitely would be in another play. Being on stage is nerve wracking, but also extremely empowering," continued Wilmoth.
Senior Kimberly Shogan played the personality Liam, the personality Amanda formed to protect herself from the trauma she faced at the age of 13. "Being on stage was like a roller coaster ride for me…regretting how I said a line as soon as it left my mouth, but wanting to do it all over again when it's over," said Shogan. 
Senior Carter Mills played the personality Randall, the personality Amanda formed as a result of the violent behavior of her father's captors.  "I think Randall represented the men that killed her father, but he also represents the unease in Amanda's mind," said Mills. "The hardest part about playing this character was playing a person so unlike myself because I'm typically shy, but the second hardest part was getting to know new people," continued Mills.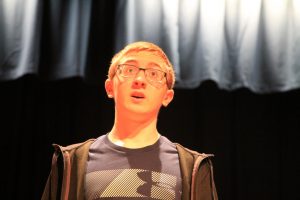 On October 28, Mills was awarded with the Outstanding Actor Award at the district competition for acting. Due to his performance the talent hidden by his shy exterior has been revealed. "Yesterday [Thursday, October 31] I was nervous [performing] in front of half of the school. But at competitions I don't feel nervous. I couldn't believe I won [ the award], and I don't think I deserved it. But I certainly appreciate it and it boosted my self-confidence," said Mills. "I don't much care if I win awards, I just act because I enjoy it," continued Mills.
Mrs. Williams remained positive following a disappointing seventh place finish at the regional level On Tuesday, November 5. "It was not the tightest show we've done, but that's the nature of the beast…the kids had a good time, and had yet another opportunity to see some amazing local theatre."
"We are excited that Magna Vista will advance to the VHSL State competition. This will be the second year (back-to-back) that includes a Piedmont District competitor at the state contest level," Williams added. 
The cast and Mrs. Williams are looking forward to the spring show entitled "Game of Tiaras," a comedy by Don Zolidis. 
The show features Disney style princesses against the rugged "Game of Thrones" backdrop. Mrs. Williams describes the play as "A storyline much like Shakespeare's "King Lear" brings it home with family, betrayal, the crown, comedy, and plenty of fake blood (from all of the hostile usurping) to keep audiences laughing!"
Auditions for "Game of Tiaras" will take place in early January.
About the Writer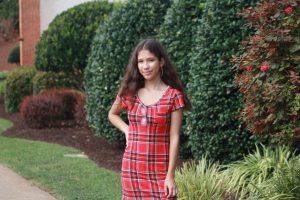 Brittney Eames-Ramirez, Photography Editor
Brittney Eames-Ramirez is a sophomore this year at Tunstall and a fresh face to the Trojan Messenger. Hoping to become a lawyer and an author, creative...