American Education Week: A Tribute to…
Tribute to Mrs. Shelton by Julee Myers
My favorite teacher was Ms. Tammy Shelton who taught me geometry freshman year. From the beginning, I was familiar with her because my mom knew her, but she grew to be one of my best friends during one of the most stressful and intense times of my life. It was a change from middle school, and she helped each one of her students to not feel so alone and scared. She kept it real with us; she would never sugarcoat anything. If you messed up, you definitely knew you did, but I knew I could go to her for anything I needed and talk to her about real issues. Even though she's not at this school anymore, I still go to her for any math problem I need help with, and she makes sure I understand it before we move on. An hour and a half was never long enough in my favorite class, and that very class made me realize that not all math was horrendous and torturous. The way she taught and reviewed made me grow to love geometry. I remember doing pages and pages of constructions, because nobody ever understood them, and I remember the posters she had on the walls of what is now my fourth block algebra class. I definitely miss her talking about her dog and telling funny stories about her kids. It's certainly strange being in her room without her, but I know she's just a text or a phone call away. 
Tribute to Mrs. Brimner and Mrs. Lynch by Brittney Eames-Ramirez
Throughout my entire life I've had great teachers. Though there were two that have really been a significant part of my life. I grew up on the Southside of Martinsville, and my school, Albert Harris Elementary School, was considered ghetto compared to the school uptown. Mrs. Merilyn Brimner was my music teacher throughout my six years of elementary school. She was always kind to the students and me when we had her class, I swear there isn't a mean bone in her body. But I saw her as more than a teacher, she was my friend. She also befriended my grandma, and even helped me through her death. And for that I will always be thankful. 
My second favorite teacher was my 5th grade teacher, Mrs. Elizabeth Lynch. She had the most comfortable classroom I've ever been in; there were comfy chairs and beanbags to sit in, the entire room was colorful, and for some reason it always smelled sweet in her classroom. She helped me develop my love for reading because we had a small section in the class dedicated to reading. We could sit on beanbags, and we had the choice of reading the paperback books on the shelf, or reading off the kindle she brought for the class. She's also one of the first teachers to ever make me believe in academic success. In Martinsville there is an award called the Big M Award. The fifth grade year is the first time that students are nominated and can win. Mrs. Lynch gave the award to my friend Anessia and I, which made me feel beyond proud of myself. But what Mrs. Lynch did next shocked me. She made Anessia and me pick from about 20 different dresses to see which we liked best, and then did the same thing with sandals! Mrs. Lynch bought my friend and I the dresses that we wore to the award ceremony, and we both felt so beautiful that night. I also love Mrs. Lynch so much because this award allowed me to walk across the stage and look into the crowd to see my grandma's face beaming with happiness. Sadly, that was one of the last times my grandma ever got to be there in person for one of my ceremonies. I'm still able to count on Mrs. Lynch whenever I'm feeling too down to pick myself up.
Tribute to Coach Trey by Jhalin Godwin
The light flashes on my skin as I look up at the clock. The ref says, "Top, bottom, neutral, or defer?" I look over to my coach he holds up an X(defer). I go on the bottom, and the kid is trying his hardest to pin me, but I won't budge. This match was from my freshman year at districts. 
I know to some this small account of an event is not significant, but to me it was when I realized I wasn't always in a fight, and that I could control the outcome. The coach in this situation is Coach Trey Duvall. He is known as more of a chill vibey coach but to me he is the one who pushed me to be great. Practices would consist of us going head to head with coach and him always doing some kind of weird move that I would pick up on and be able to use to my advantage in actual matches. 
My dad hasn't been around for most of my life and I was always trying to find something or someone to fill the void; Coach Trey did that for me. After I win, he is always at the mat to tell me, "Good job and prepare for your next match," and after losses he always tells me "it's not the end of the world, just get better." To me life isn't about being the toughest, it's about working the hardest you can day in and day out until you can look in the mirror and say, "I did that."  Coach Trey taught me this in more than one way, and for that I'm grateful. Thanks Coach Trey. 
Tribute to Ms. Lashley by Daniella Espinoza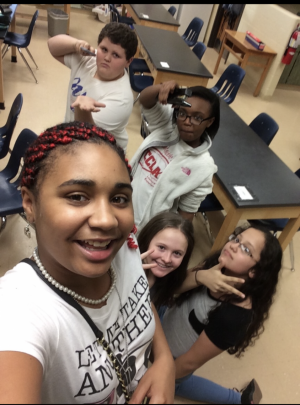 The distinct smell of baked goods will always remind me of one of my all time favorite teachers, Ms. Lashley (now known as Mrs. Ferguson). When I first entered middle school, I was shy, and I wasn't open to trying new things until I had Ms. Lashley as my family and consumer sciences teacher. Ms. Lashley invited me to join the school club she led named FCCLA (Family Career and Community Leaders of America), when I joined I was only a member, but we started off every meeting by baking or making something to eat. While it cooked we had our monthly meeting. I enjoyed being in the club so much that I decided to run for an officer position the following year. I won the treasurer position. We had monthly officer meetings where we discussed what we would do in our regular meetings, and of course, we also made food in these meetings. However, that wasn't the only time Ms. Lashley's room smelled like a bakery; even when she didn't have classes, she would make food for students to sample. Ms. Lashley's room became a safe space for me in middle school; if I was ever stressed or needed to let feelings out I would go to her room and talk to her. She would always give me advice and tell me that everything would be okay, and she was always right. To this day, I still go to Ms. Lashley with all my problems, and I try to go down to the middle school as often as I can to see her, after all she was my "school mom" for three years. Ms. Lashley thank you for helping me make lifelong friends, and teaching me that it's better to work together than apart.
Ode to the sweetest teacher in school by Ca'ron Murphy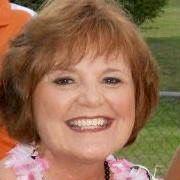 One of the sweetest teachers I've ever had in school was Mrs. Weatherford. I remember being a small child sitting on the floor of my room and watching a van pull up in my driveway, along with three teachers coming in to talk to me. I think this was the first time I remember someone coming to my house to see me specifically, of course people would come to see the family, but they were there just for me. We sat down and talked about school, friends, and family. We talked about everything we would do in class, and they made me feel comfortable. The first day of school my mom walked me down the long deteriorating hallway at Stony Mill and stopped at the door to the preschool trailer. I remember the tall white door and the metal bar that seemed too strong for a giant to push. Then out comes Mrs. Weatherford with her classic dress of a colorful blouse, khaki pants, and comforting smile. In that class, she helped us share, grow, laugh, and learn around people I've never seen before. We went on field trips to pick pumpkins for Halloween, a hay ride at Owen's Farm, a free day at a science museum; In December we went to her own home to bake cookies and listen to Santa Claus read stories about Christmas and open presents. Some of the things I took away from Mrs. Weatherford's pre-K class is how to have compassion for people I don't know all that well, how to have fun, and how to have a good conversation.
Tribute to Mr.Book by Justin Earles
 Mr.Book is one of my favorite teachers because he actually teaches you the material you need to know. Mr.Book teaches government. Mr.Book is nice and he's funny and he makes sure that you understand what you're doing. He lets you copy down your notes the way that helps you learn the best. He's also very smart and knows what he's talking about.
 He doesn't give us too much classwork or homework. He normally always lets you make up all your work. He's really respectful and kind. He posts all the notes online just in case we didn't get them. He gives you plenty of time to study for a quiz or test and sometimes he gives open-note quizzes.
Tribute to Mrs.Williams by Justin Earles
Mrs.Williams' class is also pretty interesting if you're not shy. You get to do a lot of interactive projects. You learn about a few plays in her class, but it's mostly pretty fun. In her class you get to talk to a lot of people you don't know. Mrs.Williams is a very funny teacher. She also has a lot of energy and expresses her dramatic side a lot. She also sings a lot in class. She's a very sweet and nice teacher and she's definitely at the top of my list of favorite teachers.
A tribute to my sixth grade gym teacher by Peyton McBride
Middle school is a hard time for most people. Trying to fit in, finding new friends, and trying to get to class on time are all difficulties students face when starting middle school. This was especially difficult for me because my middle school in Lufkin, Texas was home to over 1,500 students. This made life difficult because at times I felt invisible. This was until I walked in to the gym for the first time. Walking into the Lufkin Middle School gymnasium was like walking into a garden full of flowers, except for the smell. The walls seemed to always be freshly painted white, the floor was a pattern of the school colors: purple, white, and gray, and it was always air conditioned, even during the winter. I loved gym because of my teacher, Mr. Flowers. He was so much more than just a teacher, he was a friend, too.
Mr. Flowers did a lot more than make us run the pacer or count our push-ups. He counseled all of his students and made them better people every day. This meant his discipline was strict too. Mr. Flowers would make us take laps around the football stadium if we did not have the locks for our lockers. He would make us do push-ups if we walked during running time, and he would make us do burpees if we cussed. This made everyone love him, even though that was probably far from his intentions. Mr. Flowers would talk to all of his students privately to see if we needed to talk about any of our personal problems. He would constantly tell me that I needed to play football, and now, 6 years later, I finished my last season of football.
Mr. Flowers, thank you for always pushing us and a special thank you for making me love the game of football.