My life as told through: books
There is a time in every person's life before they knew how to spell or even write their own name. The times when we would play with blocks at recess and sit on a mat in front of a calendar daily for a simple little math lesson. A time of innocence and growth. And learning to read for me was finally being given the ability to put the ideas that pass through my brain into words, and putting those words into writing.
Before we were taught to read actual books, we were expected to trace letters and numbers. Oh, those were the days of fancy erasable books that parents would save for in case you ever had a surprise little sibling. Every page would have a little animal or object to represent the letter, to help the child relate the letter to something. The younger kids today don't understand the much simpler time before they had tablets and iPhones to learn their ABC's and 123's. 
The next stage in my life brought  the "Berenstain Bears". It was a small family of bears that lived in a town of other personified animals. The family did everything a normal family would do: they ate dinner together, went to school, the brother and sister had their little arguments that they would end up being a learning . Yet as a five or six year old, I perceived all of this from plenty of pages full of pictures, and as few words as possible. 
Moving on up in life my vocabulary grew and so did my interest in reading. In third grade or so I began to read small chapter books. My favorite books at the time were "The Magic Treehouse" series. It consisted of a young brother and sister that stumbled upon a treehouse full of books. Every book turned out to be a story with a problem of its own and the duo would have to travel into the book and solve it. These books had words instead of pictures, so the child friendly imagery formed the pictures in my head for me. 
It didn't take long for me to grow into even larger horizons. My sixth grade year was mostly spent reading books online for endless hours at a time. I'd even read things on websites like Wattpad or Quotev (both online sources for any young creative writer to publish stories) written by kids my age at the time. I've even dabbled in writing my own stories, all of which are still in progress.  
Yet it wasn't until I reached THS that I had some real time to dive into a school library. Every ounce of spare time I had in my freshman year was spent reading "The Hunger Games" series, "The Cellar", "Game", and "Blood of My Blood". So far my sophomore year has been spent reading a book for my journalism class called "The Hate U Give", three books for Honors English: "The Narrative of the Life of Frederick Douglass", "To Kill A Mockingbird", and have just finished "The Catcher in the Rye". Although in my spare time I've read "The House of Night" series. 
After all of the reading I've done in my life from" If You Give a Mouse a Cookie" to being disgusted by flipping to a random page in my mom's copy of "Fifty Shades of Gray," I'm still discovering new books that leave me breathless.
Leave a Comment
About the Contributor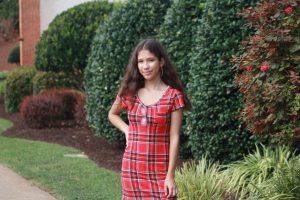 Brittney Eames-Ramirez, Photography Editor
Brittney Eames-Ramirez is a sophomore this year at Tunstall and a fresh face to the Trojan Messenger. Hoping to become a lawyer and an author, creative...