Top 5 on-demand streaming platforms 2020
In 2020, the year of quarantine, everyone needs something to watch while maintaining social distance. Through the span of 2020, all of the on-demand streaming platforms gained millions of subscribers. Hulu, HBO Max, Netflix, Disney +, and Amazon Prime Video have been ranked as the top 5 of 2020 based on the stats from the U.S.News and World Report. When choosing a platform, there are a lot of things to take into consideration: how much does it cost, how many people can use it, and how many individual profiles are available.
5. Hulu
Hulu is an on-demand service that has everything from movies of the 80's to brand new shows. A basic membership for Hulu costs $5.99, and premium costs $11.99. They offer a 7 day free trial to help people decide. The difference is basic has ads and premium does not. This streaming platform only allows users to stream on two devices at once, but 6 individual profiles are available.Hulu original premieres are shows and movies such as The Handmaid's Tale, Shrill, or Pen15. Hulu has a wide variety of shows and movies ranging from family friendly to murder-mysteries.
4. HBO Max
HBO Max is a new streaming platform that came out in May of 2020. HBO Max is just as it sounds, it has shows and movies from HBO, but it also includes programming from Warner Media. HBO Max costs $14.99 a month; they also offer a 7 day free trial. With HBO Max, users can have 3 devices streaming simultaneously and a maximum of 5 individual profiles. When the program first launched, everyone joined to watch the popular show Friends: a sitcom following the lives of 6 friends who live in New York City.
Other than Friends, HBO Max has popular shows and movies such as Euphoria and The Outsider. HBO Max has shows and movie premieres through the Platform, called 'Max Originals', including the newest of which: An American Pickle. This streaming option has kids shows including the most famous of all: Sesame Street. HBO Max has many new shows and movies coming out every week and it keeps growing.
3. Disney+
Disney+ has Disney shows and movies ranging from Lizzie McGuire to Sofia the First. Disney plus' subscription is $6.99 monthly or $69.99 for the year. As with Hulu and HBO Max, a 7 day free trial is available. With Disney+, users can use 4 devices simultaneously and 7 individual profiles.
Most people hear Disney and think it is for kids, but with Disney+ people have found that there are tons of shows and movies interesting to teenagers and adults. The most popular show on Disney+, The Mandalorian, follows a bounty hunter and 'The Child' in the StarWars universe. Disney+ has originals including The Diary of a Future President and a weekly show called Muppets Now. Teenagers enjoy getting to watch the shows from their childhood: Phineas and Ferb and Jessie. Disney+ is a platform for everyone.
2. Amazon Prime Video
Amazon Prime Video is a subscription users get with Amazon Prime: a deal users pay for with Amazon to get discounts and faster shipping, or users can pay for the video service alone. Amazon Prime Video costs $8.99 alone or $12.99 combined with Amazon Prime. With Amazon Prime Video, users can use 3 devices at once and users have up to 6 individual profiles. Amazon Prime Video includes originals such as The Marvelous Mrs. Maisel, The Man in the High Castle, and The Good Omen. Amazon Prime Video also has shows that range from sitcoms such as Psych, Chuck, and Monk to kids shows including Daniel Tiger's Neighborhood or Sid the Science Kid. Amazon Prime Video can be a substitute for traditional cable for many families.
1.Netflix
Netflix is the most well-known, on-demand, streaming platform. Netflix costs $8.99 for basic which allows users to have 2 devices, $13.99 to $15.99 for premium, which allows 4 devices. Users can get a basic trial for free for 30 days to test the subscription. Both memberships allow users to have 5 individual profiles. Netflix has a lot of popular shows: The Umbrella Academy, Orange is the New Black, and One Day at a Time, which are all Netflix Originals. Netflix Originals range from heart warming content such as Alexa and Katie to thrillers including How to get Away with Murder. Netflix has a huge amount of content for kids and is where users can find TV favorites such as The Office. Netflix has something for everyone.
About the Writer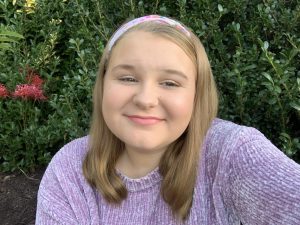 Addyson Hunsicker, Photography Editor
Addyson Hunsicker is a 10th grader at Tunstall High School. She enjoys staying home, baking, and napping with her animals. When not doing school work,...