'Among Us' is a hit among students
"Among Us" is a murder mystery game that has recently gained popularity. It's a multiplayer game that can be played on pc or mobile devices. This game has simple graphics of people who are on a spaceship with jobs to do, they are referred to as "Crewmates." The little colorful characters have to save the ship by doing tasks and finding the "Imposter". The imposter's main goal is to kill everyone on board without getting caught. If all of the crewmates complete their tasks, they win, but if the Imposter manages to kill all crewmates the imposter wins. 
The game has three different maps and can be played with 4-10 players. Every server has a unique code that can be shared with friends to play together. Players have an option to host a game, join a public game, or join a private game. In between murders, players can have emergency meetings or report a body to then be able to chat with the other players and come up with a conclusion on who is the imposter. The player with the most votes then gets kicked out, and it is revealed on the screen if they are the imposter or not.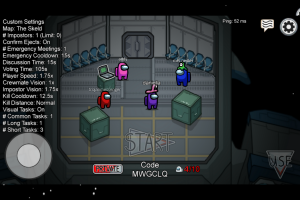 This game seems to have gone viral overnight after multiple social media platforms have brought it to the attention of the masses: "I found out about it through social media! It got really popular all of a sudden," sophomore Linzey Rigsby said. "Among Us" has been out for almost two years, but did not gain attention until September of 2020. It can be played on PC or mobile devices. The game now is the top game of the Apple Game Store and according to the creator has over 86 million downloads which is quickly catching up with Minecraft's 200 million in 9 years: the most popular video game ever. 
As most trends begin in today's day and age, this game received a lot of its players from social media platform TikTok. 'Tiktokers' have been creating Tik Toks about the game and the experiences in the game. There are also memes that have surfaced on social media platforms.
Many Tunstall students have jumped on the trending game. "My favorite thing [about the game] is the thrill of getting to be the imposter and no one suspecting it was you," sophomore Kayley Craige said.
"Among Us" is bringing Tunstall students together; students are making group chats to play and finding others with similar interests through the game. "I play like three times a week, but for hours at a time," junior Tatalia Preston said. 
Senior Jack Donahue said, "Winning is the best, especially when you're the imposter." 
This game is running through the internet and is growing fast. "Among Us" is bringing Tunstall students together and keeping them connected while at home.