Nurse Ratched reimagined with Netflix Original: Ratched
Netflix recently released psychological thriller "Ratched," a prequel to the novel/movie One Flew Over the Cuckoo's Nest, by Ken Kesey. The show was created by Ryan Murphy who is known for creating the "American Horror Story" series and Evan Romansky. The show has been set to have two seasons from the start. There is currently one season with eight episodes and the episode length varies from 45-62 minutes each. 
The show stars Sarah Paulson as Nurse Mildred Ratched, Finn Wittrock as Edmund Tolleson, and Cynthia Nixon as Gwendolyn Briggs. If you have watched the American Horror Story series you may recognize some of the actors. The show is set in the late 1940s and the main character is Nurse Mildred Ratched who worked her way into being hired at psychiatric hospital, Lucia State Hospital, in California. The psychiatric hospital is ran by Dr. Richard Hanover, who is destined to bring medicine into a new era, by using disturbing experiments on patients. Viewers soon discover why Nurse Ratched was so ambitious to get the job as it is revealed that she has a special connection to serial killer Edmund Tolleson. 
The show tells the story of how Nurse Ratched came to be. The show includes a lot of politics like the mentioning of the death sentence. Most of the characters of the show have some sort of addiction or illness, giving the whole plot a chaotic twist.
The show itself uses a lot of cooler tones and neutral colors at the hospital to help the nurses stand out. Mildred Ratched's signature look is her nurse uniform, crimson red lipstick, and pinned up hair. Throughout the show the name "Angel of Mercy" is mentioned, which is known to be Nurse Ratched's nickname. Nurse Mildred presents herself as cool, calm, and collected, to those around her to appear superior. 
I really enjoyed the show, I watched it in a span of three days. The wardrobe design and set truly pulls together the "psychiatric hospital" feel. It reminded me of the second season of "American Horror Story", "Asylum," where Sarah Paulson stars as Lana Winters, a journalist trying to escape an insane asylum. I definitely recommend watching this Netflix original if you are interested in shows like "American Horror Story," "The Haunting of Hill House," "Bates Motel," "Hannibal," and "Castle Rock."
About the Writer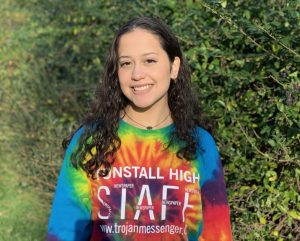 Daniella Espinoza, Editor-in-Chief
Daniella is a senior and this is her second and final year on the Trojan Messenger staff. She's planning on making the best out of her senior year despite...