Conditioning resumes for football and cheerleading
Sports are a big part of the Tunstall community, from homecoming to pep-rallies, our school revolves around sports.  Due to the pandemic all of the fall sports have been moved to February, but most of the sports have started conditioning while abiding by the guidelines to get in shape for the season.  These guidelines have changed the way we do sports: volleyball cannot use a net, football cannot tackle, and cheer cannot do stunts.  As athletes prepare for the fall sports season, they will have to embrace these changes. 
Fall sports are supposed to start in February this year, but as cases of COVID-19 rise in the area even that is unsure. Football games played in February are sure to be different, but in the meantime, sports are safely conditioning, "We are conditioning two days a week, Mondays and Thursdays. Players are spread out more and we are using small group instruction instead of the whole team," said football coach Randy Hunsicker.  The conditioning consists of cardio at six feet of distance, weight lifting in small groups at a distance, and an a lot of single person drills. 
The hard part about the guidelines is getting others to always follow them: "I am constantly reminding the players to distance between groups," Hunsicker explained. As the season changes, the weather is going to affect the way the players play and exercise. In the colder weather, pulling muscles will be more of concern. 
Senior Colin Moore talks about how football practices are going. Football, just like cheer, started back on September 28, practicing two days a week. Colin says that prior to COVID-19, the team would practice just about all year round and were able to hit, throw, and catch. This year, the team isn't allowed to share any equipment at all. This means the team cannot lift weights, throw, or catch with protective gloves. With these things being the main point of the game, it is very hard to even get a practice in at all. "These changes have been extremely hard to overcome because football is a contact sport, and it requires hands-on work," Moore adds.
With the football games comes the atmosphere that the cheerleaders create, but their season is going to be different as well. Conditioning has been strange with the guidelines because it is such a teamwork sport: "Everyone is away from each other and we don't learn what we usually do," junior Sofia Miller explained. Cheerleading is keeping a safe distance via lines to stand on while conditioning. 
Junior Elena Booth, who has cheered at Tunstall for four years, started back conditioning with her team on Monday, September 28, practicing two days a week. Prior to every practice, the cheerleaders have to get their temperatures checked. Other rules at practice include staying six feet apart with the mask on, or ten feet apart if they wanted to take their mask off. "These changes have been hard to adjust to because I like to talk and laugh with everyone, but I wouldn't say it's too bad. We're still getting to see each other and practice the thing we love to do," Booth said.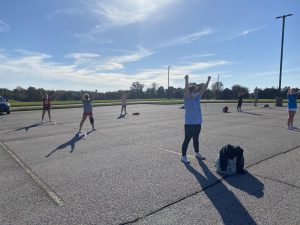 Junior Tatalia Preston reiterated much of what Booth said. Although, she says the adjustment in practices have been very hard. "It's weird because we usually help each other with motions and stunts, but we can't anymore with the social distancing," Preston adds. She is unsure how the season will look and how games will go. 
Preston expresses what many people are feeling: "It's going to be a really weird season."