Looking back on childhood shows
When high school students were in elementary school, many watched the same shows. Looking back now students feel nostalgic when rewatching them.
Sophomore Abby Eades feels nostalgic from a show called 'Good Luck Charlie.' It reminds her of when she was younger and she would get home from school: "I used to watch it every day after school because I loved it," Eades said. She has fond memories of watching this show with her sister.
Freshman Mary Gammon looks back on 'Curious George' nostalgically because of the memories it brings back from elementary school. "My first grade teacher would have the TV on and would play it in the mornings before school started," Gammon said. This show reminds her of her childhood which comforts her.
Sophomore John Mills feels confort remembering 'Scooby-Doo.' It reminds him from when he was younger and he would watch it: "It was my favorite TV show from a very young age and I've seen every single show and movie," Mills said. He has memories of when he would wake up and get to watch. "I remember waking up and watching Scooby-Doo and having my mom record and buy me the season on the TV," Mills said.  
Sophomore Kayley Craig has found memories of watching 'Sofia the First.' She feels comfort from rewatching it. "It makes me feel comforted because I loved princesses and Disney," Craig said. 
She can remember being obsessed with Sofia and wanting to be like her: "I remember being Sofia for Halloween and having a matching Build-a-Bear of her,'" Craig said.
Senior Hana Moore looks back on 'SpongeBob.' She can remember coming home from school and cheering her up: "I just enjoy the laughter it brings me. Even after a bad day at school, I would come home with a big smile and be ready to watch it," Moore said.
She distantly remembers a time when she dressed up as Squidward:  "I remember dressing up as Squidward when I was seven because he was my favorite character. We have the same attitude," Moore explained. 
Now as teenagers, students look back on their old shows nostalgically. Especially in these hard times, the shows can comfort students and remind them of fond memories.
About the Writer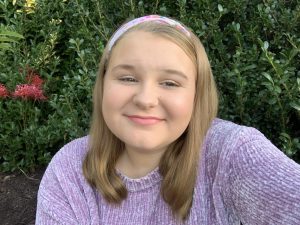 Addyson Hunsicker, Photography Editor
Addyson Hunsicker is a 10th grader at Tunstall High School. She enjoys staying home, baking, and napping with her animals. When not doing school work,...