Mills runs for state Beta office
John Mills is a 10th grader at Tunstall High School who has big goals for the future. This year he will be running for Virginia State Beta President while balancing soccer and all advanced classes. 
John is running for 2021-2022 Beta president, which means he will be the president of all Beta clubs in Virginia. John really just wants to get more involved with the club because he loves Beta and the community so much. If he wins, he plans to do more to give back to the communities of Virginia. He originally started doing Beta convention in the 8th grade when he moved to Tunstall because one of his friends said it was really fun. He has gone to convention for two years and the 2021 convention will be his third.
With the pandemic, many conventions are going virtual. This includes Virginia's February convention, where John is running. This virtual convention plan is making John's campaign harder: "I haven't been able to go speak to people in person at the convention and not being able to have club meetings in person has made connections harder," Mills said. If John wins, he will go on to run for National President, which means he would be president of all of the Beta clubs of America. 
"John is a ball of energy and he is the one that I think could blast us into the future of Beta," Beta sponsor Mrs. Tara Mills said.
Mills, outside of school and Beta, plays soccer for the Tunstall High School team and competes with Blast U-19. At the moment, he is playing for U-19 as a captain. John has been playing soccer for many years: "I started playing [soccer] when I was about four or five," Mills said. John enjoys doing soccer because of the creativity it allows and the pace of the sport. 
After high school, John plans to go to a four year college, then go to medical school to become a dermatologist. He wants to help others through his work and he says that the "largest organ" is the way to help. To prepare right now, he is taking all advanced classes. It can be stressful at times to keep all of his activities in check. 
During this hard time of the pandemic and stress from activities, John has been keeping his spirits up with religion by "making a point to read my Bible every day and keeping contact with God," Mills explains. This is the way John handles all of the stress of life.
Follow John on his journey at John4vabetapres on Instagram and support him by spreading his message and campaign.
About the Contributor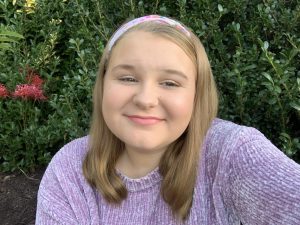 Addyson Hunsicker, Photography Editor
Addyson Hunsicker is a 10th grader at Tunstall High School. She enjoys staying home, baking, and napping with her animals. When not doing school work,...