Winter sports canceled; Fall sports tentative
"Fall" sports begin conditioning
After winter sports tryouts being postponed in December, Pittsylvania County Schools' winter sports season has officially been canceled. The sports included in winter sports are boys basketball, girls basketball, cheerleading (for basketball), and wrestling.
"We have been unable to hold full practices based on our health data.  Many discussions were held with division leaders and the other high school principals.  We met frequently to discuss our data and the recommendations provided by Dr. Spillman.  Without being able to hold full practices, in some sports, we were unable to form teams, and we were unable to play games or compete in matches." said Principal Brian Boles.
"I feel so terrible for our kids… We also recognize the disappointments for our seniors who are affected by this decision," Principal Boles added.
This decision was definitely not an easy one to make, "When someone takes into account how much time and effort student-athletes and coaches have put into a season to not be able to compete, it is very disheartening," said Assistant Principal and Athletic Director Dustin Echols. 
Many seniors were devastated to hear that they would not be able to play their senior year and get that senior night filled with friends and family. 
Senior Andrew Crank has been playing basketball for Tunstall since eighth grade. "It sucks to not have a senior season, but I understand why we cannot play. I will most likely play in college, but just intramural and pick-up games," said Crank.
Another senior who won't get his senior night is Jhalin Godwin. Godwin has been wrestling and playing football for four years. "I'm devastated to not be able to wrestle my senior year. It breaks my heart for every athlete," said Godwin. 
On a brighter note, football, volleyball, golf, and cross country still have a possibility of a season. For the football season, only Pittsylvania County schools will play each other.
"I think [playing in the county] is somewhat of a morale boost because everyone wants the Chatham and Tunstall rival game. We also know the players on the other teams, so it makes the competition better," said senior football player Aaron Giles.
Information on "Fall" Sports
Cross Country (Boys and Girls)
February 15th: 3:30-5:30 Baseball Building
Contact Person: Coach Yates
Currently Practicing
Contact Person: Coach Hunsicker
Currently Practicing
Contact Person: Coach Fulcher
February 16th: 3:30-5:00 High School Gym
Contact Person: Coach Cockram
February 15th: 1:00-4:00 Tuscarora Country Club
Contact Person: Coach Reynolds
About the Writer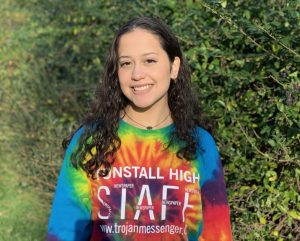 Daniella Espinoza, Editor-in-Chief
Daniella is a senior and this is her second and final year on the Trojan Messenger staff. She's planning on making the best out of her senior year despite...