Dining Local in Danville: Nana Karen's on Main
Nana Karen's on Main opened on October 13, 2020, and is a craft breakfast and lunch restaurant. The name may sound familiar because they also have a food truck named Nana Karen's Crusin Kitchen.
Naming the restaurant after his mother, Chef Dustin Harberer decided to start a food truck after being the Executive Chef at the Institute for Advanced Learning and Research conference center. In June 2020, he along with Marketing Manager and former Chatham High teacher Katie Inman decided to work together and open the restaurant.
Nana Karen's on has three separate menus for lunch and one menu for breakfast. A few of their breakfast items are: Sourdough French Toast, Blackberry Waffle, Breakfast Wrap, and their waffle of the week that changes every Wednesday. 
The three separate lunch menus are named "Nana Karen," "Papa Mike," and "Chase's Place." The following items are apart of those menus: Chicken and Waffle Sandwich, Cajun Catfish, Bang Bang Chicken Sub, Braised Beef and Cheddar Hoagie, Buffalo Chicken Bagel Bites, White Cheddar Mac & Sausage, and Raspberry Walnut Wrap. Nana Karen's also serves Callands Coffee. 
Review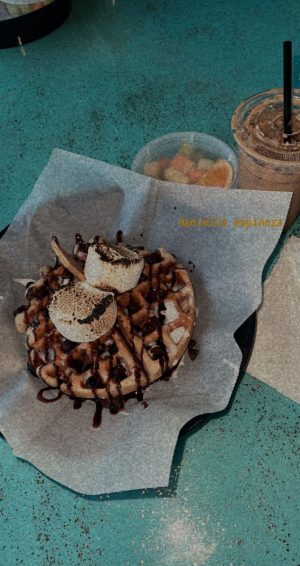 I went to Nana Karen's on January 13, and although I am not normally a fan of breakfast, Nana Karen's felt like the perfect spot to indulge myself. I ordered the waffle of the week which was the S'mores Waffle, which was "Graham Crackers Folded into Our Maple Bacon Waffle Batter, Topped with Fluffernutter Chantilly Cream, Chocolate Morsels, and a Blow-Torched Marshmallow." I also ordered a vanilla iced coffee and a side of fresh fruit. The waffle was delicious and not too sweet like I thought it would be, the side of fruit was a nice freshness, and my iced coffee was flavorful. 
The restaurant has an overall bright and uplifting atmosphere with shades of gray and teal all around. On the walls, you can find a variety of inspiring quotes and decor. Their hours are from 8 am – 4 pm on Tuesdays-Fridays, with breakfast hours from 8-10:30, and they are open on Saturday from 8 am- 2:30 pm, breakfast hours are from 8 am – 11:30 am. They are located at 547 Main St. Danville, VA 24541.