Tunstall runners win the race
Tunstall High Schools cross country team competed at home for the first time this season on Tuesday, March 9, 2021. The opponents for boys and girls consisted of George Washington High School and Halifax County High School.
Coming in 1st place for boys was senior Ashton Weaver running 17:42, alongside junior Charles Hearp in 2nd place running 17:59. Weaver ran a strong race leading throughout the whole course, which is no surprise due to the training he has done. "I've been putting in around 50 miles each week," Weaver says. "I've been training really hard with a couple of friends, and we have been pushing each other during the off-season."
Our Lady Trojans got top 5 during their race. Coming in 1st place was junior Sophia Hearp running 23:21, in 2nd place was senior Savannah Reid running 24:43, 3rd and 4th place were close with sophomore Abby Eades running 25:35, and senior Kendall Moore running 25:39. Finally, coming in 5th place was sophomore Brittany Dalton running 26:26.
"At least 5 days a week I do something, between running, swimming, and lifting," sophomore Abby Eades, runner, and swimmer says, "I've always had "on and off" moments where I don't want to run, but the feeling after runs is so amazing and motivating, as well as seeing myself improve"
The rest of the boy's team consisted of freshman Azael Quinteros (21:28), sophomore JC Gonzalez (21:59), junior Nikolas Hearp (22:07), freshman Edwin Diaz (22:14), sophomore Alexis Tiznado (23:56), sophomore Cole Grogan (24:57), freshman Lucas Walker (25:07), freshman Luke Cassada (25:12), sophomore Dallas Younger (26:21), senior Matt Ross (28:00), freshman Landon Light (30:42), freshman Colton Wells (31:10).
The rest of the girl's team consisted of senior Sydney Mahoney (27:56), sophomore Sophia Barker (34:50), junior Elizabeth Lewis (39:34), junior Julee Myers (41:19), senior Rachel Matherly (49:45).
"Covid has absolutely killed my motivation, especially now that it's colder outside," junior Julee Myers said. "I'm very excited to have the season! I love being with my teammates. They make running so much more fun!"
The runners were all excited to finally have their season since it has been postponed due to COVID. "You really don't realize how much you love something until it's gone," senior Savannah Reid said. 
The next meet is scheduled to be held on Tuesday, March 16, 2021, at Smith River Complex.
About the Writer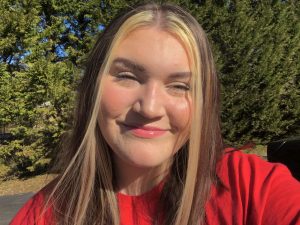 Elizabeth Lee, Reporter
Elizabeth is a junior and this is her first year on the Trojan Messenger staff. She enjoys painting, watching YouTube, and doing her nails. Elizabeth likes...