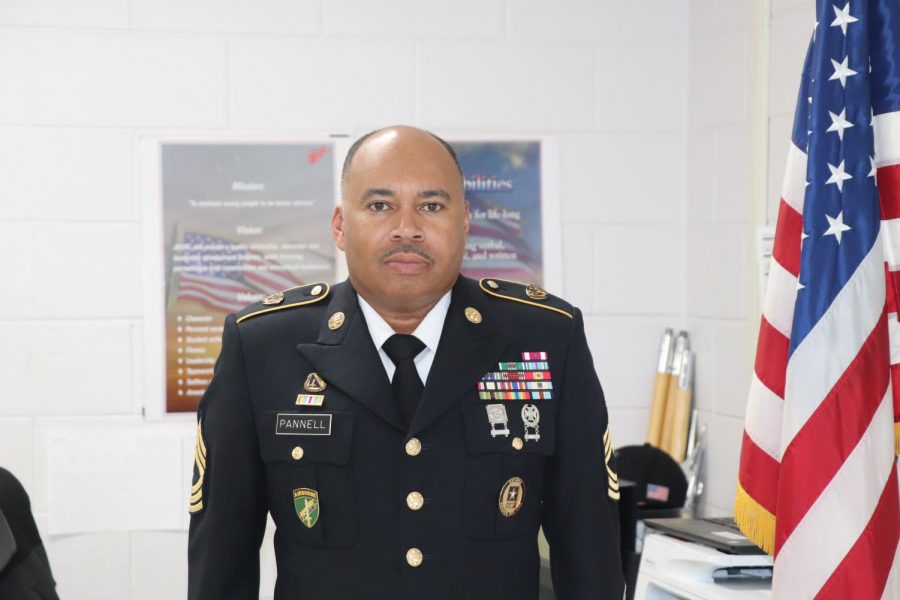 Master Sgt Pannell joins Tunstall ranks
Master Sgt Pannell was born and raised in Danville, Virginia. He went to Whitmell Elementary School, Blairs Junior High School, Tunstall High School for ninth to tenth grade, then to George Washington High School for eleventh to twelfth grade. After graduating from GW, Master Sgt went to work at the since closed Basset Table company. From there, he joined the Army in 1989 at nineteen years old, where his first assignment was to go to Germany. Other places that Pannell has been are Fort Benning, Georgia and Colorado.
After taking a break for roughly seven years, Master Sgt. Pannell rejoined the military in 2004 much to people's surprise after the 9/11 attack shook the country. His assignment after rejoining was to Williamsport, Pennsylvania, famous home of little league baseball. From there, he went to a navy base in Memphis, Tennessee, then to RedStone Arsenal in Huntsville, Alabama, and lastly to Chicago, Illinois where he retired in 2017. 
In 2018, Master Sgt. Pannell began teaching JROTC in Chicago, then connected Colonel King for any available positions in the surrounding area. Last summer, while on a visit to his family in Texas, Pannell received a message from Colonel King stating that Sgt. Major Royall planned on retiring by the end of the year. Master Sgt. Pannell started teaching at Tunstall on January 19.
"I immediately dropped everything. That was on a Thursday, and that Saturday my wife and I drove from Texas all the way here to Danville," Master Sgt. Pannell said.
While he teaches at Tunstall, Pannell hopes to see more participation again in the program so they can start doing fun activities again. There is more to JROTC than marching and the military; students can experience archery, rock tower, and obstacle courses. Master Sgt. Pannell also wants to see students do what they aspire to do no matter what. 
"My motto is this: it doesn't matter what your circumstances are, you choose your own path," Pannell said.
Master Sgt. Pannell wants to use the JROTC program to help students learn things that they will be able to take outside of the classroom. Pannell sees his fit in the program through the education aspect. He wants to teach his students finance, leadership, and effective communication and writing skills. 
"These are things you're going to need when you go to college," Master Sgt. Pannell said. 
Even if a student in the program does not want to go into the military, they will still be able to bring the life lessons Pannell teaches with after graduation.