Band rebuilds after Covid
In March of 2020, the WGI made the decision to cancel their annual indoor competition due to the COVID-19 pandemic. In July of 2020, the final decision was made in the school district to cancel the marching band season and appear at football games only on the side lines. This devastated many performers including the members of the Tunstall Concert ensemble and Tunstall Vanguard Band.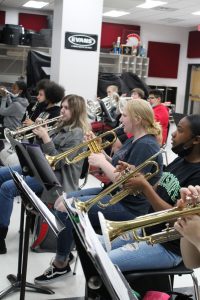 "It was the worst thing that could have happened, but I think we saw it coming when the news of the virus spreading," junior Kasie Shelton said. 
The TCE 2020 show was a proud moment for instructors Kellie Knapp and Tim Bray as most of the group's members were seniors who were ready to celebrate their last year competing in Dayton and pass along their knowledge to the younger members in the show titled, "One More Time." The marching show that would have been performed this year at football games and competitions is entitled "Infected" about a virus taking over and infecting the band. 
"I'm glad I got to spend what little time I had left with my closest friends in the group before we graduated," 2020 alumni Malik Thornton said. 
This year, the groups have been rebuilding and practicing under the Covid regulations, even though there will not be a Dayton championship or regional competitions to go to. With the loss of ⅔ of their members from the class of 2020 and 202, the groups will be working on their own skills until the prospective competitions start in 2022. 
"I'm really happy to be in the band room again and see how Tim [Bray] and Mrs. Harlow plan to help us rebuild after not practicing for so long," junior Luis Tovar said.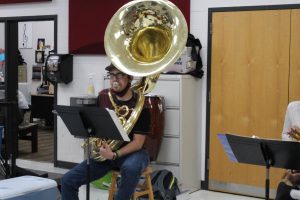 The group has been holding isolated practices per instrument/group type throughout the week where they work on perfecting their technique and understanding the basics. Woodwind instruments practice on Mondays, colorguard and percussion practice Tuesdays and Thursdays, and brass instruments practice on Fridays.
Senior Lillian Lawson has been practicing with the old and new color guard members as she has been passing her knowledge along to them with the help of junior Madison Frazier. "My time with the guard girls helped me learn the best ways to teach them, so I could grow too," senior Lillian Lawson said.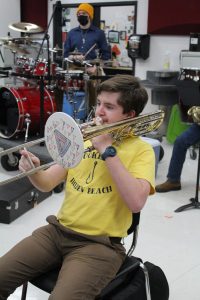 The marching band has been practicing technique in order to prepare for next year's show which remains a mystery as the title will be released in the summer. 
"I'm excited to see how the group will perform next year because they have been practicing so much," senior Abby Guinn said. 
The marching band/pep band also had the opportunity to play socially distanced on the sidelines at football games. Even though it was not the same type of performance as the group is used to, this gave the members a sense of normalcy amidst the perils of the pandemic.