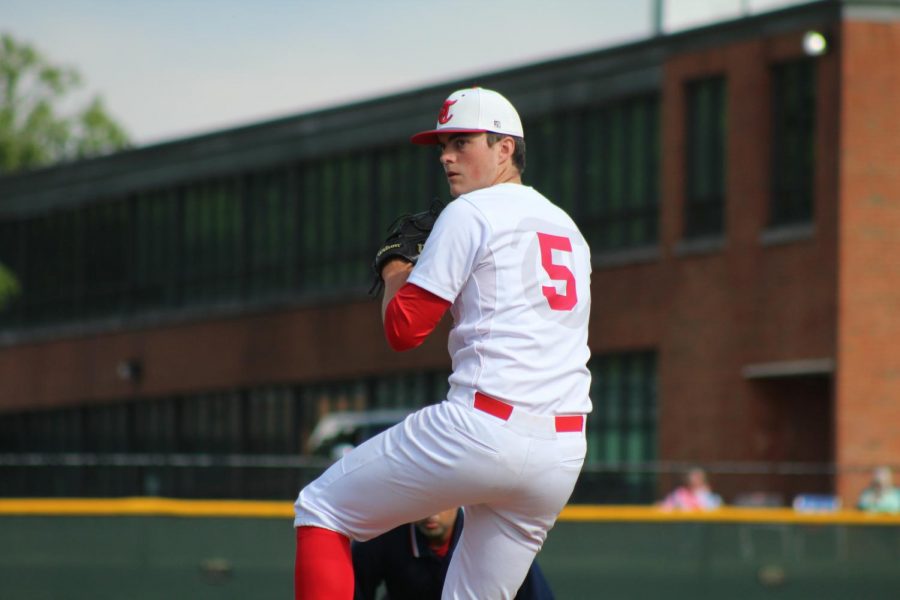 Halifax loss puts Tunstall baseball in 1st place tie
May 18, 2021
Friday night's 1-0 loss against Halifax was a pitcher's duel. Giving up one earned run in the 2nd inning, Raymond Ladd recorded the hard fought loss. Jaxon Lloyd threw a no-hitter for Halifax recording 12 strikeouts as the Comets join Tunstall in a first place tie in the Piedmont District standings. 
In their first meeting at Halifax, the Trojans had a narrow 3-1 come from behind victory in the 7th inning in the first game of the season. 
In the home contest, Tunstall loaded the bases in the 6th with the help of two hit batters, but could not get a score once Lloyd's curveball found its drop. 
Ladd went into the 7th inning nearing his maximum pitch count. A strike out followed by ground balls to Landon Jones at second and Daniel Hicks at third finished the side. Tunstall was unable to get anything going at the plate following a lead off walk to Colin Moore and left one stranded in the loss. 
"Pitching has been the major thing that has given us success in the past. Ladd, Colin Moore, and Hunter Yeatts have done well this year on the mound," Head Coach Barry Shelton said. 
"I hate the loss for our whole team but in particular for Raymond as he gave it all he had and we couldn't get him any runs."
On the season, junior Elijah Byrd and seniors Colin Moore and Dylan Young lead the team at the plate with .400 plus batting averages. Junior Landon Jones leads the team in stolen bases and has a .550 on base percentage. 
"Our goals remain the same. We want to compete for the district title and get to the post-season," Shelton added. 
The baseball and softball teams will only play teams within the Piedmont District this season. This means that they will face Halifax, Bassett, Magna Vista, and Patrick County three times each since GW and Martinsville did not field teams this year. 
In addition to the early Halifax win, The Trojans have defeated Bassett 13-7, Patrick County 6-0, and Magna Vista 12-1, 4-0. 
The baseball team will face Patrick County at home on Tuesday, May 18th at 5pm in their only contest this week. 
This article was also published in the May 19 edition of The Star-Tribune.