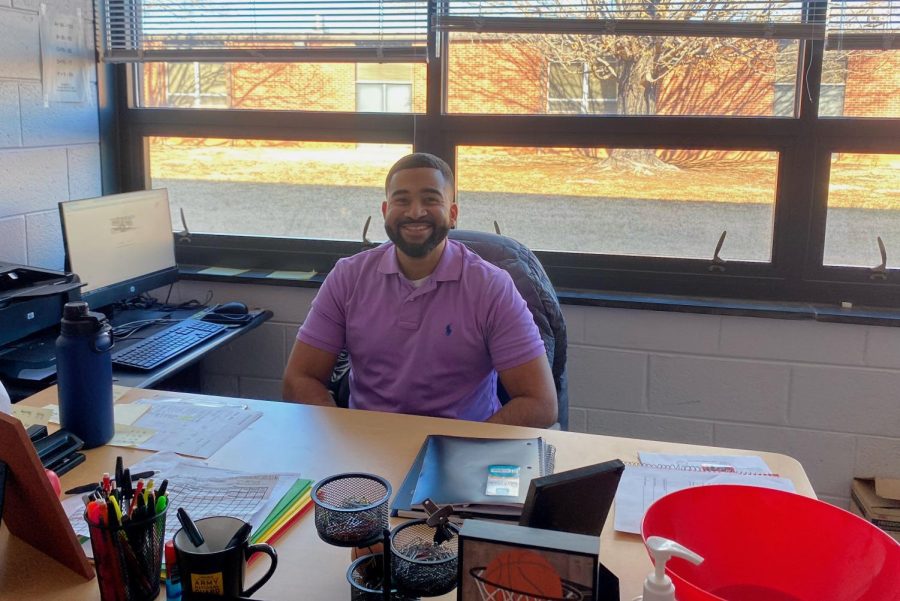 Mr. Cameron Hairston
Mr. Cameron Hairston is the new inclusion teacher and he also teaches a support class. For inclusion he goes into other teachers' classrooms to help students out and for support class students get the opportunity to come into his classroom for extra time to work on assignments. Hairston is in his first year of teaching, he got the job maybe 10 days before school started. 
When Mr. Boles offered him the opportunity, he couldn't turn it down. Although this is his first year teaching he had already been coaching basketball, cross country, and track for a year. 
Hairston was born and raised in the area and graduated from Tunstall in 2012. After high school he went to Radford University for 2 years and finished at Averett University where he got his bachelor's degree in sociology. 
"I love being able to make a difference in students' lives and just help. I'm always willing to help." Hairston enjoys working with youth and being able to relate to the kids. His favorite part is being able to see students getting ready for the next step in their lives. 
The hardest part of teaching for Hairston this year has been adjusting to all the new, little things, like keeping up with protocols, guidelines, and staying safe. Hairston says it has just been hard getting used to the new normal compared to what school used to be.
During his freetime Hairston enjoys the simple things like spending time with his wife, playing a little bit of basketball, and hanging out with friends and family. 
A piece of advice Hairston gives to all his students is " No matter what you do in life it should be 100% effort with the best attitude."
Donate to Trojan Messenger