Tunstall basketball rolls on to regionals
The Tunstall basketball team has had an amazing season, with many wins. They have excelled with an overall 18-5 record and a district record of 10-2 throughout the regular season. 
The Trojans opened the season with a win against the Chatham Cavaliers 74-29. Another highlight of the season was the 48-36 home victory against George Washington High School for the first time since the two schools joined the same district. 
 Their continuous ability to win games have led them to be crowned regular season co-champions, a 2nd place finish in the Piedmont District Tournament, and a chance to move on to regionals. 
The Trojans will be playing their first game at the Class 3, Region D level on February 22 in Abingdon, Virginia. 
On the season in overall stats, sophomore Jamarcus Brown has averaged 15.4 points per game, 7.7 rebounds per game, and 1.5 blocks per game. Junior D'dric Rogers has averaged 15.2 points per game, 3.3 rebounds per game, and 4.9 steals per game. Sophomore Ashton Hammock has averaged 9.2 points per game, 1.7 rebounds per game, and 1.7 in steals per game.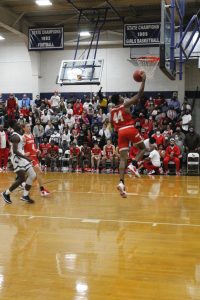 Brown started playing basketball in 4th grade, and outside of sports he enjoys playing video games. Brown says his biggest weakness is "my attitude on the court" and he plans to improve by "just calming down." His favorite thing about being on a team is "hanging out with my teammates." Brown is proud of his performance this year, and is "excited" for regionals. 
Senior Alberto Torres has recently had a very exciting time, playing on varsity for his first year. "It feels great," he said. Torres has recently moved into a starting role. "Being with the starters. It feels different, feels good." To improve he plans to "get quicker on my defense, and get quicker on my feet." 
Outside of sports, Torres spends his time working. His favorite thing about being on a team is "spending time with the guys and the coaches." Torres feels the best game this season was the one against Halifax. "I feel great, I can't wait for regionals," Torres said. 
Sophomore Bricen Poole started playing basketball in kindergarten and is enjoying this season. He says his biggest weakness is ball handling, but he continues to work on this in practice every day. Poole's favorite thing about being on a team is "everybody is cool, and there are no problems." The qualities that make him great at basketball are "my size and my strength." Pool is also "excited and ready to play," at regionals.
The winner of the Tunstall vs Abingdon game on Tuesday will go on to play the winner of the Cave Spring vs William Byrd/Carroll County game.