FBLA excels in Longwood Region Competitions
Tunstall's Future Business Leaders of America (FBLA) participated in the Longwood Region Competitions. Some of the categories that the students could participate in are Accounting, Business Law, Journalism, Word Processing.
FBLA is co-sponsored by Ms. Kristal Harris who has been sponsoring for 17 years while this is Ms. Cierra Gunter's first year co-sponsoring. 
This competition happens yearly during the month of February.
Many of the THS students who participated in these competitions got third place or above. The students competed against all of the schools that are in the Longwood region. 
Accounting- Hannah Scearce, 1st place
Business Law- Charles "Chaz" Nickens, 2nd place
Business Law- Iyana Jefferson, 3rd place
Business Management- Taylor Dodson and MacKenzie Harris, 1st place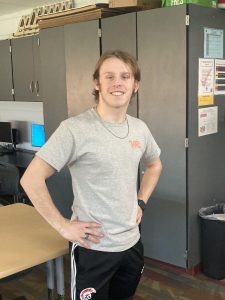 Computer Applications- Megan Gammon, 1st place
Entrepreneurship- Hallie Holt and Parker Holt, 1st place
Help Desk- Leara Slattery, 1st place
Hospitality & Event Management- Daniel Hicks and Brittany Terry, 1st place
Introduction to Business Communication- Parker Holt, 2nd place
Journalism- Hallie Holt, 2nd place
Marketing- Taylor Dodson and MacKenzie Harris, 3rd place
Word Processing- Brittany Terry, 1st place 
Any student in FBLA was eligible to compete The students had to take a 100 question test to place in the competition and they were given one hour to complete the test. 
To prepare for the test the students met after school to go over different testing strategies.
Senior Megan Gammon is one out of the 13 students who participated in the FBLA competitions and the category that she participated in was Computer Application, which is a mix between computer information system and digital applications.
"This category corresponded with classes that I had already taken, so I thought that I could succeed in this competition. The questions that were asked were from the classes I had already taken, so it came easier to me," Gammon said.
Last year, Gammon participated in this competition and advanced all the way to Nationals along with junior MacKenzie Harris. All of the 13 students who participated in this year's competition were given the opportunity to go to state competition, but due to Covid-19 this was more difficult to do.
"I will miss the feeling of being able to compete in these competitions. It's such an honor and it's really cool that I get to go up against some of the best in the state and the nation," Gammon said.
FBLA is in the works of collecting toys for childhood cancer patients this coming spring. These toys are added to treasure chests at locations where children have cancer treatments and the children are allowed to choose a toy every day after their treatment.
Ms. Harris gives advice to those who wish to compete in next year's FBLA competition:
"I think the main thing is to have confidence in yourself and if you don't, then find someone else to team up with. It doesn't matter if you win or lose, it's for the experience," Ms. Harris said.