Band and Chorus succeed at District Assessment
Band
"The Tunstall Band has had an extremely exciting 2021-2022 Season. The fall season brought with it three Grand Champion trophies and a first place music in the state. Thus far, the Spring has seen a Superior rating at the Virginia State Concert Band Assessment and a Finalist award at the WGI Richmond Regional," Kellie Knapp, the band director said. 
After the toll taken from the Coronavirus, band students were resilient in their strive to continue playing and "working their craft." Attending the State Championship was a big step towards normalcy. Band members got to compete with ensembles from all over the state. 
The Tunstall Band recently attended the District Assessment in Blacksburg, VA. The students prepare three pieces of music that they then perform for judges. Following that the students take a sight reading test. They are given seven minutes to practice a new piece, then they perform it. Tunstall band members received a Superior rating for this event.  
Flute player and Hornline Captain, Luis Tovar was one of the members to attend District Assessment. He has been a band member since 7th grade, and has been playing flute just as long. 
"We got some of the highest scores that we've had in a long time, so I would consider that a win," Tovar said. Asked to sum up the District Assessment, "It's like each band hosts their own little concert, and then you get scored by the judges. It is very subjective, but you know it is what it is."
Another member to attend District Assessment was Maycie Petrushak. She joined the band in sixth grade, which was when she began playing the trumpet and has now become a section leader. Although Petrushak recalls being nervous before District Assessment, she quickly became very excited, "We warmed up, performed, and it was fun. I'm so glad I got this opportunity." Petrushak is not only proud of herself, but incredibly proud of the rest of the band. "We all worked hard, long hours to get us a superior score. The bus ride home, we were all so excited, it was great." 
Chorus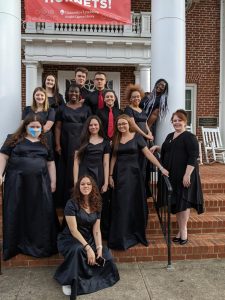 "For the first time in three years, Tunstall High School was able to participate in the District VI Choral Assessment." Heather Perryman, the director of choral activities said. District Assessment is an annual event that involves middle and high schools in VCDA District VI. Radford University has hosted this event for over 10 years, but they are currently undergoing renovations, so the University of Lynchburg graciously agreed to host the event in 2020. Due to the shutdown that occurred just a week before the event, there was no assessment for two years.
The assessment consists of a choral festival where ensembles are judged on several different components. These components include: tone, intonation, diction, rhythm, artistry, balance/blend, general effect, and sight reading. 
In the performance portion students must memorize two contrasting musical works, THS Chamber Choir received a high "excellent" rating in this category. The second portion of the assessment is sight reading, this is where students are given two minutes to study an eight-measure notated exercise that consists of no lyrics and they have to accurately sing the written notation without hearing it performed first. "Tunstall fell two pitches short of completing the exercise perfectly and received an 'Excellent' rating," Perryman stated.
Senior chorus member, Sierra Wimbush was one of the participants in District Assessment. Wimbush has been in chorus since first grade and joined Tunstall's chorus in the sixth grade. Even though this was not Wimbush's first time at assessment, the nerves were still present, "We were all really nervous, but since we have all gotten so close this semester we knew exactly how to keep each other calm."
Wimbush felt that in the times she has gone to District Assessment this year was the best, and she had the best people surrounding her. "I can honestly say I've never been closer to the people in my chorus class, we all created genuine bonds and grew so close," Wimbush said, "I consider this class to be family," The love does not end with her classmates, she has nothing but the best to say about her teacher, "When it comes to Mrs. Perryman she is one of most kind, caring, and genuine people you will ever meet, she would take a bullet for any of her students."
When asked about how she felt about the performance of the chorus Perryman said, "I am well-pleased with our performance and work ethic and couldn't ask for a better group of students to work with. They brighten my day each and every day and working with them has been truly a joy."