Driving in style: Vehicles of Tunstall
The ability to drive is something that every teenager craves. A driver's license is like a gateway between being a kid and being an adult. At Tunstall, a majority of upperclassmen drive their own vehicles to and from school each day. There are a vast variety of vehicles that park on the school's grounds daily.
Senior Brittany Terry owns a red 1998 Isuzu Rodeo that she named Barbara. Barbara was passed down to her from her grandmother, Marthy Terry. "My sister wanted to name my car Barbie, but I said no, so we compromised on the name Barbara."
Since Terry's car is a rather old vehicle, she doesn't feel the need to spend lots of money cleaning and detailing it. "I don't spend a lot of money on it, I just spend time. I try to clean out my car at least once a month." 
She explained her appreciation for her Isuzu because it allows her to drive to work, school, home, and anywhere else she wants to go. "I drive my car daily," Terry stated.
While Terry loves her Isuzu dearly, it isn't her dream vehicle. "My dream car is a Range Rover," Terry said.
Amir Abebseh is a sophomore at Tunstall that drives an Audi S7, along with a 2016 Audi Assist  he prefers to drive more often.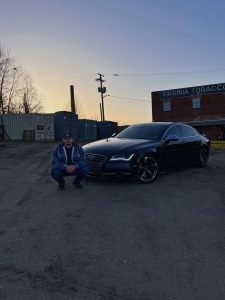 He spends lots of time cleaning and detailing both his vehicles because of his interest in cars. "I'm into cars, and I like taking care of them," Abebseh explained.
Not only does he spend time taking care of his vehicles, but he also invests in custom parts for his cars. "I bought Stage 3 turbos, a tune, and wheels," Abebseh stated.
Although he has a deep love for owning and customizing his car, Abebseh explained that there is a downside to owning his dream car. "They see my car and automatically think I have money," Abebseh expressed.
Junior Addison Stanfield owns and drives her dream vehicle, a blue 1988 Dodge Ram WD150 that she named Blue Biscuit. "Everyone in the family has always called anything old a biscuit, and because an actual biscuit comes in many shapes and forms, just like cars and trucks," Stanfield explained.
She explained that she finds it very important to take care of her truck so that it will run better and longer. "Taking care of something that is unique is important to me. Keeping it nice is what will keep it going for a lifetime," Stanfield stated. She also explained that she hasn't recently bought any custom parts for her truck, but she will soon be purchasing new seats.
She explained that her truck means so much to her because of the quality time it allows her to spend with her dad. "It's important to me because me and my dad spend time working on it together," Stanfield said.
She also explained why she looks up to her father and grandfather. "They taught me so much about everything I know and have learned through the years. Their knowledge lives through me and making sure it continues through generations is important to me," Stanfield said.
Despite owning her dream vehicle, Stanfield explained that there are cons about being involved in the truck community as a girl. "Everybody judges in today's world. I'm sure they believe it's strange for a girl to drive an old body style vehicle," she stated.
The parking lots of Tunstall are home to a mix of beloved vehicles. While each and every one are unique in their own ways, they are all loved by our students and staff.