Midkiff's students make magnificent masterpieces
Throughout the years, many wonderful art projects have been created by Tunstall art alumni. Recently this year, a new art teacher has arrived, Ms. Montana Midkiff. She can easily work with different art students, adjusting to their style accordingly.
Ms. Midkiff tries to think of unique ways to inspire students' creativity by the different projects she assigns. The projects vary from pointillism, three dimensionals, and watercolor paintings. "I just think of something and search for similarities in google to see how I can make it work for everyone."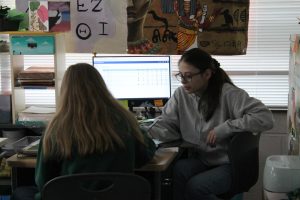 Her classroom is always filled with distinctive art pieces being displayed. When someone walks in, they can see many different personalities in the art. Sometimes one can even tell whose art it is. Other times one may get surprised by who made them. It is easy to see the inspiration taken from other peers or sometimes in the everyday landscape.
"It's fun to work with students because I have to work with everyone differently, because of their different styles," Midkiff says. 
Many of the art alumni get their inspiration from sheer willpower. Zafiro Lopez is an art student who is always getting compliments from her peers on her art. She always has creative ideas and is willing to try new things. Her art stands out because of her precision and creativity.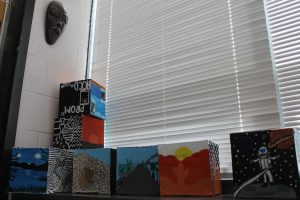 "While I'm in class I want to be the best at what I do, I want people to look at my hard work and think it's beautiful. I just really like making pretty things," Zafiro Lopez, Art I student, said. 
Art club is an opportunity for art students to let their creativity be seen all around the school. Students work on projects in collaboration with other departments. One collaboration the art club has done recently is with the workshop class. 
The class cut out a large wooden board in half to be used as a canvas for the Art Club students, allowing the students to let their creativity flow and decide what they would be willing to paint.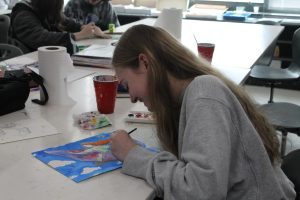 Zafiro Lopez and Amy Manzano worked together to make the beautiful lion drawing that is now being displayed near the workshop classes. Zafiro and Amy had lots of fun and worked diligently to make the piece come together. "We worked hard on it and it was definitely my favorite project that I have ever done," Amy Manzano, past art student, said.
The Art Club is going to continue working on projects for the library, science wing, and the architectural wing. Look for new paintings and murals to be displayed around the school.