Emma Dowdy: Goals of a goalie
On any given day over the past 11 years, you might find junior Emma Dowdy on her way to the soccer field. From playing at Southside Soccer Club as a five-year-old to her third year on varsity, Dowdy has always had a love for the game of soccer. This season Dowdy has been mainly playing goalie for the varsity team, but she says her favorite position to play is left wing.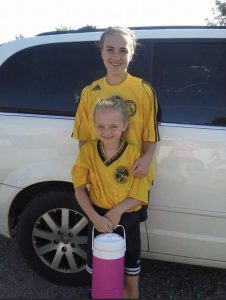 After watching her older sister, Leah, play soccer, Dowdy decided she wanted to try it out and play too, "My sister was definitely the person who inspired me to start playing soccer." Dowdy says she has stuck with the game over the years because she genuinely enjoys soccer and adores the people she has met, "I love my teammates and coaches, they're always pushing me to play better whether that's for myself or because they really want to see me succeed." The love Dowdy has for soccer isn't just related to the sport, it is connected to the people she plays with. 
Even after all the years she has played soccer, Dowdy still gets nervous before every game, "I usually try to jump it out before the whistle blows." Dowdy also has a little pregame ritual in which she always braids her hair. Dowdy doesn't have a reason for it, it's just something she has always done. 
A lot of Dowdy's time is dedicated to soccer, so she makes sure to find a balance with her busy schedule. She tries to get school work done before practices or games so there is time after to spend with her friends. The time Dowdy gets with her friends is so important to her and helps with the stress of being a student-athlete. When Dowdy isn't on the soccer field or hanging out with friends, she loves painting and baking. 
Dowdy believes that the most rewarding part of soccer is seeing everything that she has worked on at practice come together perfectly on the field. On the other hand, a big challenge for Dowdy has always been injuries because she always wants to be on the field. Even though Dowdy has been very successful in soccer over the years, she doesn't plan on playing anymore after high school. Dowdy says she plays soccer because she enjoys it, not because she wants to make a career out of it. 
A piece of advice Dowdy has for anyone who wants to start playing soccer is, "Just get out there and be aggressive. It's a sport that you definitely need to go full force into, and connect with your teammates because you rely on each other on the field."