Tunstall's varsity soccer teams big win against Patrick County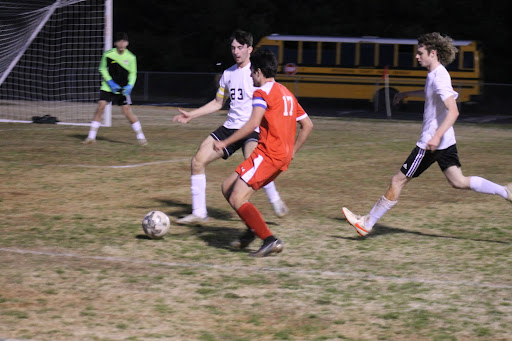 Tunstall's boys' soccer played against Chatham for the second time this season on April 19. Trojans ended with a big win, winning 5-1, making this their second win against Chatham for the 2022 spring season.
Freshman Jaden Hawker made a huge impact in the game, scoring three goals and making one assist throughout the game. Junior Zachary Payne and senior Jorge Ramirez both an one goal each during Tuesday nights game.
Senior Brandon Hill made three assists and senior Mason McGregor had one assist.
Later in the week on April 22, the boys' soccer team had their second win of the week against Patrick County High School. Trojans won after double overtime, 3-2.
Freshman Jaden Hawker made another huge impact on Friday scoring 2 goals and senior Brandon Hill scoring one goal.
The boys' soccer team will be traveling to compete against Dan River High School on April 25. The next day, they will also be playing George Washington High School at home on April 26.
Girls' soccer
The girls' varsity soccer team played against the Chatham Cavaliers on April 19. The Lady Trojans loss after a tough game, losing 1-0.
Junior Kaley Fry had 11 saves during Tuesday nights game.
However, the Lady Trojans made a comeback on Friday, April 22, against Patrick County, winning 3-0.
Junior Britt Bowman scored two goals with one assist from junior Makira Thomas. Another goal was scored by Junior Kaley Fry with freshman Valeria Rameriz assisting.
The girls' soccer team will be traveling to Dan River next on Monday, April 25 at 7 p.m.. The next day, they will play away against George Washington High School on April 26 at 6 pm.
This article was published in the Star Tribune on Wednesday, April 27.