The goodness from Mills Grill & Grocery
It is a part of many daily routines for students, parents, and teachers to drive through the chaos that is in the crossroads before getting to school. While passing through, a small gasoline store sits quietly in the corner: Mills Grill & Grocery.
It is very easy to miss except for the crowded parking lot because of its popularity among many students, teachers, and parents driving by on the way to Tunstall Middle and High Schools.
It is not just an old, simple gasoline store with unhealthy snacks scattered around, but it also serves as a mini takeout place with a variety of foods that many students enjoy. 
It is owned by two Tunstall Alumnis, Tyler and Chesley, who graduated in the years of 2005 and 2008. They took over the store after Tyler's father in April 2019.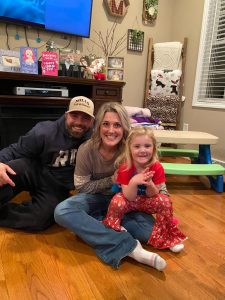 They sell anything from a simple bag of chips to homemade desserts like fluffy, mouth watering brownies. 
Many fan favorites are the hot dogs, mozzarella sticks, cheese fries, and cheeseburgers. They even offer breakfast in the morning allowing for locals and visitors to go at any time of the day to get a good meal. 
"Teachers and students buy an array of breakfast biscuits and sandwiches.  For lunch and dinner, everyone seems to love our cheeseburgers, cheese sticks, and fried pickles," Chelsey said. 
Mill's food is made in a homemade style and is sold at a not-too-high price, which is something many students and faculty enjoy. The store's proximity is also a big advantage for anyone at THS. Students can easily go for a quick snack or drink after school or even early in the morning. 
"Every day after cross-country practice, I would always go and buy myself a hotdog meal with everything on it and some fries," Senior Elizabeth Lewis said. 
The environment that Mills offers is very homey and even nostalgic for some. This is one of the many reasons why Chelsey and Tyler love running the store. They love seeing all their customers, getting to know them and seeing how they enjoy the services they are receiving. 
Although they can have difficulties in maintaining the store, with the long hours and keeping up with supply and demand, they still love creating a community around their store and interacting with everyone that comes through the door. 
"There are always going to be advantages and disadvantages of owning your own business but really with our employees and customers, there aren't many challenges that we can't overcome." Tyler and Chelsey said.